We have great news for you: the Omniconvert integration with Zapier is available!
Now it is easier than ever to connect your Omniconvert account with thousands of tools and save up precious time.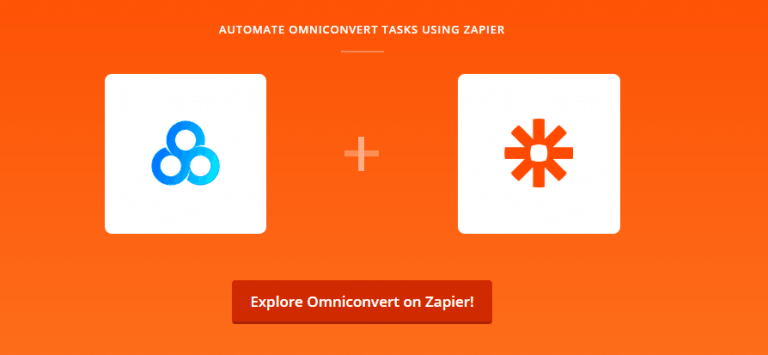 Zapier is a global integration platform that helps you automate business flow and tasks by connecting different tools and web applications without any coding involved. It's a delight to all non-technical marketers, it simplifies the processes and helps you have a more significant impact with less work and effort.
How Zapier works?
In case you have not used Zapier before, I will briefly explain how it works: Zapier creates a connection (it is called a Zap) between two web applications using Triggers and Actions: when a trigger is launched, the action you set up automatically takes place.
For example, when someone completes their contact information (trigger) in a survey, the email address is instantly sent to your Gmail account or CRM tool (actions).
How to connect your Omniconvert account to other web applications?
One of the main features of Omniconvert is the lead capturing survey. You can quickly build segmented surveys and collect the leads. From now on, using the Zapier integration, you can directly send the leads from the Omniconvert surveys to your CRM or any other tool that has the Zapier integration available.
How to do it step by step
Step 1: Login your Zapier account and start making a Zap
Step 2: Set up the trigger
2.1. Choose the Omniconvert app from the list:
2.2. Choose the trigger you need – New Survey Lead or New Interaction Lead (it triggers when you have a newly generated lead) – and click 'Continue':
2.3. Connect a new account and write down the API Key (you will find it in your Omniconvert account) and the email address you used to create it:
2.4. Set up the Omniconvert lead: once you have connected your Omniconvert account, the next step is to select from the list the URL of the website where your survey is live. After this, select the survey that you want to get the information from:
2.5. Test your trigger to make sure everything is set up properly:
2.6. If everything is set up right, this will show up:
Step 3: Set up the Action
3.1. Choose the Action App that will be launched by the trigger:
3.2. Depending on the app you have selected, you will have various actions available. Here are a few examples:
Gmail:
MailChimp:
GetResponse:
Slack:
HubSpot:
3.2. Connect your Action App account and then Set up the template you want to use for this zap, depending on the available options.
3.3. Test your template or skip this step.
3.4. Finally, name your Zap and turn it on:
And this is it! Easy as ABC!
Want to try? Follow this special invite link which will let you integrate Omniconvert with more than 700 applications available on Zapier.
And feel free to contact us at [email protected] if you need any help with setting up an integration.
Was this post helpful?
Let us know if you liked the post. That's the only way we can improve.