In Omniconvert, you can gather leads with the help of specially designed overlays or using the lead collector from your surveys. These leads can be later used in sophisticated marketing campaigns developed in SharpSpring. All you have to do is create a Zap connection between Omniconvert and SharpSpring.
Here is how you do it:
First of all, log in your Zapier account and start making a Zap.
Step 1. Set up the trigger
1.1. Choose the Omniconvert app from the list.
1.2. Choose the available trigger – 'New Survey Lead' – if you have a survey set up in Omniconvert, or 'New Interaction Lead' – if you have an overlay (they will be triggered when you have a newly generated lead); after, click 'Continue'.
1.3. Connect a new account and write down the API Key (you will find it in your Omniconvert account) and the email address you used to create it.
1.4. Set up the Omniconvert lead. Once you have connected your Omniconvert account, the next step is to select from the list, the URL of the website where your survey/overlay is live. After this, select the survey/overlay that you want to get the information from.
1.5. Test your trigger to make sure everything is set up correctly.
1.6. If everything is set up right, this will show up.
Step 2. Connect with SharpSpring
2.1 Choose for the 'Action' part, SharpSpring.
2.2. Choose the 'Create/Update Lead' option and press 'Continue'.
2.3. Choose 'Connect an account'.
2.4. A new window will appear > Fill in the Account ID and the Secret Key.
***You can find the Account ID and the Secret Key by accessing SharpSpring. Go to 'Settings' (in the bottom left side of your screen) > 'SharpSpring API' > 'API Settings'.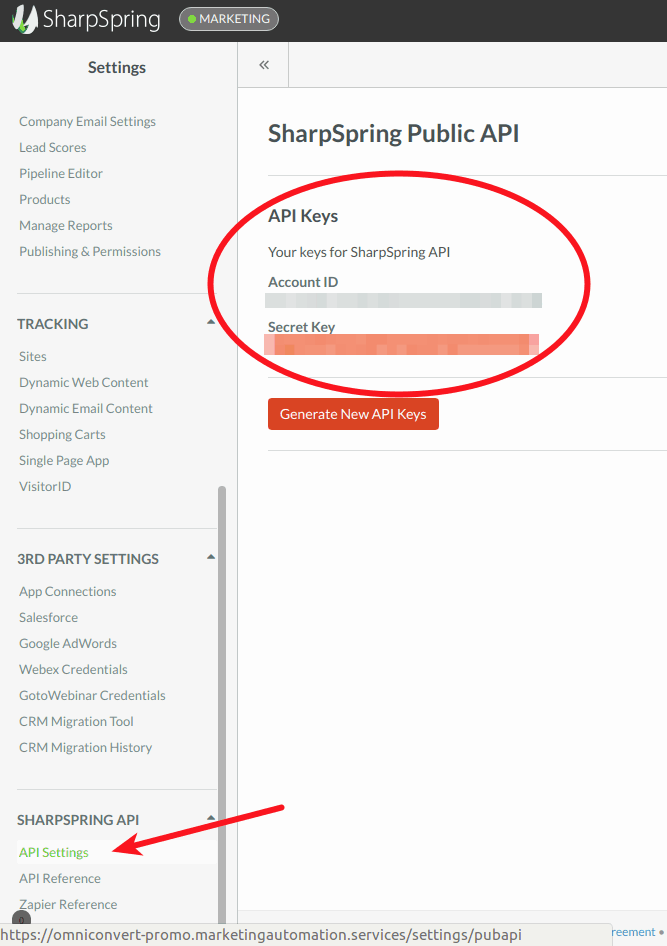 2.5. Test your integration and click 'Save and Continue'.
2.6. Set up your SharpSpring Lead template.
2.7. Test the step. A green window should appear. The message will let you know that the Test Lead was sent to SharpSpring. Click 'Finish'.
2.8. Turn on your newly created Zap connection between Omniconvert and SharpSpring.
Now, the leads coming from your survey/overlay will be automatically sent into your SharpSpring's database.
Was this post helpful?
Let us know if you liked the post. That's the only way we can improve.