Welcome to the wonderful world of conversion optimization powered by Omniconvert.
In order to start your journey and achieve the highest potential of your website, you must take the smallest step first: installing the tracking code that will apply all the changes you make in the platform, onto your website.
Installing the code directly into your website
To install the tracking code, you need to LOG IN the application and click on the 'Install' button in the header area:
Or lower, on the 'Click here' link:
Another way to reach the tracking code page is by clicking on the website's name > 'Tracking code settings'.
After doing so, you will be prompted with a new window from where you must simply copy the custom code generated especially for your website.
After you copy the code, you must go on the server where your website is hosted, search for the file that contains the header part of your website, and paste the code immediately after the <head> tag or at least before any other javascript (js) files.
Below is an example of where the tracking code must be inserted:

Attention! The code must be installed and available in the header of all the pages of the website where you want to run an experiment, include in segmentation or track goals on
If you want to install the tracking code using Google Tag Manager check out this article.
When to choose Asynchronous code and what you need to know
Because our platform is Javascript based, for seamless user experience when conducting A/B tests (without any flickering effect), we recommend the synchronous implementation (the default one). But if you plan to use other features than A/B testing, you can load the asynchronous code.
If you are using a Tag Manager system, always use the asynchronous version.
For example, if you use Google Tag Manager (GTM), and try to implement the Omniconvert tracking code via a Custom Tag, you must know that these tags will be fired asynchronously. As a consequence, there will be a flickering effect when running A/B test experiments.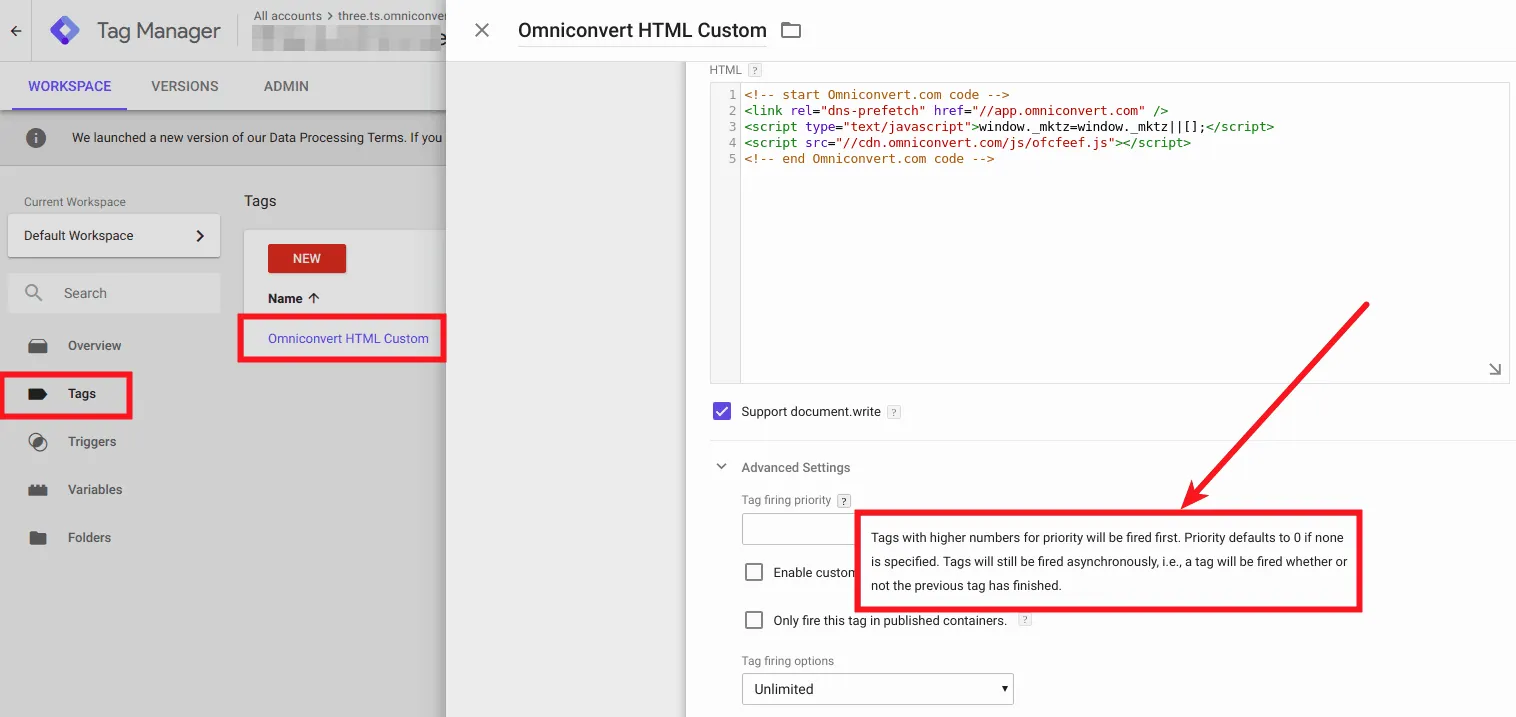 If you use GTM and want to conduct A/B tests and offer a very good user experience, try implementing the Omniconvert tracking code independently, directly into your website, not placing it through a Tag Manager System.
There are multiple undesirable consequences that may appear when the code is integrated asynchronously. You can read more about this in this article.
Was this post helpful?
Let us know if you liked the post. That's the only way we can improve.