Spartoo is a fashion brand that sells clothing and accessories to men, women and children internationally.
Today I'll walk you through my own experience with Spartoo and what testing ideas could benefit the site's conversion rate.
Let's start.
Homepage:
– OnLoad Popup asks European visitors if they reside in the European Union. Omniconvert already knows which country or city the user is from and you can just ask if they want to visit "Spartoo Italy", for example.
– The "FREE DELIVERY AND RETURNS" text is easy to miss. Here's some testing ideas:
– Make it bold and colored (pink)
– Use icons
– Test one static hero image against the carousel.
– Test product images vs. lifestyle images.
– On this image, test one call-to-action vs. multiple calls-to-action. Also experiment with bigger, more obvious calls-to-action.
– Test button copy – "Shop Now" or "View Collection" or "Discover now" or "Shop the collection"
In the image below you'll see famous actor Jake Gyllenhaal, wearing and outfit that you can purchase from the destination page. The button here could also be improved to say something like "Explore look" or "Buy this look".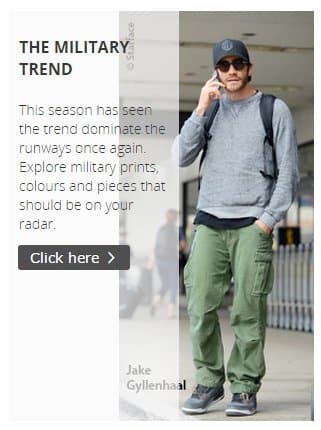 – Test the following popups (this is currently in the footer):
Product page:
– Test different layout here:
– Move the loyalty points below the call-to-action, to highlight a benefit that comes with purchasing the product.
– Replace the wide "Now accepting Paypal" image with smaller images of payment options like "Visa", "Mastercard" as well as "Paypal".
– Test the button copy in the recommended styles section:
Shopping cart:
– Move the Paypal button below the main payment button to make it more accessible to customers.
– Also add a checkout button at the top, before the cart items.
– Offer coupons. Better yet, offer user-generated coupon codes. Remember the website footer?
By placing a text that says "Want a discount coupon?" on the shopping cart page, you're not only giving the customer discounts but you're simultaneously getting them to subscribe to your newsletter, thus increasing their life-time value. You're also getting valuable feedback. Bam!
Checkout:
– Offer guest checkout, or split the account creation process into two steps. In the first they can fill out the email address and the password, and in the second they can fill out the shipment address. Having a customer who is ready to buy fill out a form like this can drive them away.
Now let's dive into a mini-tutorial on how to run A/B testing on Spartoo.co.uk using the Omniconvert CRO platform: