Navabi is a fashion brand that sells premium clothing to Plus-sized women. You can read more on their About Us page, but what I love about this site is their copy, specifically on their product pages.
Now, let's take a close look at each page and see if we can come up with some ideas to increase conversions and enhance the overall user experience.
Here we go.
Homepage:
– OnLoad Popup: The description can be shorter, and you only need to tell them to enter their email address once (preferably inside the field as a placeholder)
– Also, perhaps using a popup that is centered in the middle of the screen (while also darkening everything behind it) would do a better job at persuading visitors to sign up. Whereas this one only blocks the view of the products.
– Since we're talking about persuasion, providing users with another option that says "No, thanks. I don't need $1,000." could further increase signups..
– Hiding behind that popup is the hero image. What you notice here is that it has three calls to action. I suggest testing it against only one call to action to see if it gets more clicks.
– One thing I love about the site is the use of descriptive words, quotes and the conversational tone of it all. You'll see what I mean in the product page section when we get there. One quick suggestion I'd make is to use this conversational language in the search box, as well. Some ideas that would go well:
– "What are you looking for? eg. black coat, short skirt"
– "Search products, designers…"
– I noticed this very late, but there's also two buttons in the left sidebar:
They're hardly visible. Whether these should be bigger or not also depends on the goal of the page. Although the "Service" button might be important to customers, a helpful alternative would also be to display the customer service phone number in the header.
Category page:
– The category pages default to "Bestsellers". It's easy to experiment with different orders, based on price (low to high or high to low) or recency (New in). And the results may be more relevant for the customers.
– Next to the sorting filter you also have the view: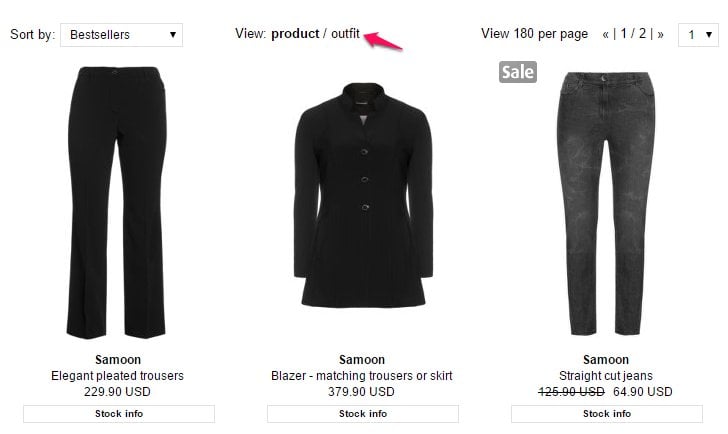 If you click on the "outfit" view, some products will display an image of a model wearing the outfit instead of showing just the product:
This is a filter that could be made to "stick" in the sidebar when you scroll down, so you can shift from the "product" view to the "outfit" view and vice-versa wherever you are on the page.
– Next, there's the filters in the left sidebar. All of them are collapsed except for the "designer" or the "category" you're in:
Many websites will default to expanding all filters, which makes it harder to find the most important ones. However, sometimes it can make it easier to see the filters and can suggest to the user that they could find what they're looking for faster if they narrow down their search.
It's good to try different ways before defaulting to one view, like:
– Defaulting to all filters collapsed
– Defaulting to some filters collapsed
– Defaulting to all filters expanded
Product page:
– Most products are between $100-300, and the shipping is free for orders above $200. Good. Chances are, if you buy more than one product you will exceed the $200. And thus, customers should be encouraged to purchase at least two products.
How? By recommending other products. Showing what others have bought along with the product. Or by recommending "outfits" based on the product they're viewing.
– Then you have the boxes that contain a product description, a size chart and a customer review as a sequence.
This could be tested by having tabs instead, like this:
I don't necessarily think this would be a winner, but as someone tweeted last week:
He who experiments the most (but doesn't fall in love with the outcomes) wins.

— Tai Lopez (@tailopez) September 30, 2015
Shopping cart:
– Bam! I was just talking about cross-selling and here's what happens when I add an item to cart:
Followed by "Out customers' favorites" and "Recently viewed". Nice.
I would take it even a step further, though. Notice how there's no mention of the "FREE SHIPPING" on orders over $200? This is he perfect moment to be showing this.
I also removed that item from my cart and added a $38 item instead, just to make sure there's no "FREE SHIPPING" mentioned anywhere. There isn't.
– Show the available payment options.
– Add trust/encryption badges to reassure the customer.
– Test checkout button copy.
– Make checkout button more "clickable" by displaying a hand when hovering over, instead of the usual arrow.
Checkout:
– Remove hyperlink from the logo, so they become less likely to go back.
– Offer "guest checkout" option. This isn't up to A/B testing, you need to have your developer implement it. The last thing you want is to ask them to sign up after they just confirmed that they're ready to buy. Yes, it's important. But having options is even more important in many cases.
– Show payment options next to the encryption badge, before they get to step 3.
That is all for today! Now let's get to the implementation stage.
There's a lot of ideas here, but this time I'll pick a very, very simple one. Because even though it's simple, many people don't know how easy it can be done using Omniconvert. Watch: