While often an afterthought, the Thank You Page holds immense potential for nurturing customer relationships, boosting conversions, and leaving a lasting positive impression on your customers.
Today's post looks at this page, sharing the secrets to transforming a mere transactional confirmation into a memorable, meaningful customer interaction.
What is a Thank You Page?
In eCommerce and Retail, a Thank You Page refers to a webpage displayed to customers after they have completed an action (such as buying something, subscribing to a newsletter, or signing up for an event.)
Unlike other landing pages, the Thank You Page serves as a confirmation and appreciation message from the online store to the customer.
The Thank You Page typically provides essential information about the completed transaction, including order details, payment confirmation, and shipping information, while adding a human touch to the whole process.
A good Thank You Page should make customers feel at ease regarding their purchase and encourage a ​​worry-free shopping experience.
At the same time, a Thank You Page should summarize the order for customers' reference.
A Thank You Page is an essential page on any website.
This is where site visitors and users land after purchasing or filling out a particular opt-in form on the website.
It is a way to acknowledge the amount a user took out and invested in the service or product of a specific business.
While some developers design a separate page to thank the subscribers, others specify a page from the existing website to be displayed after a subscription or purchase.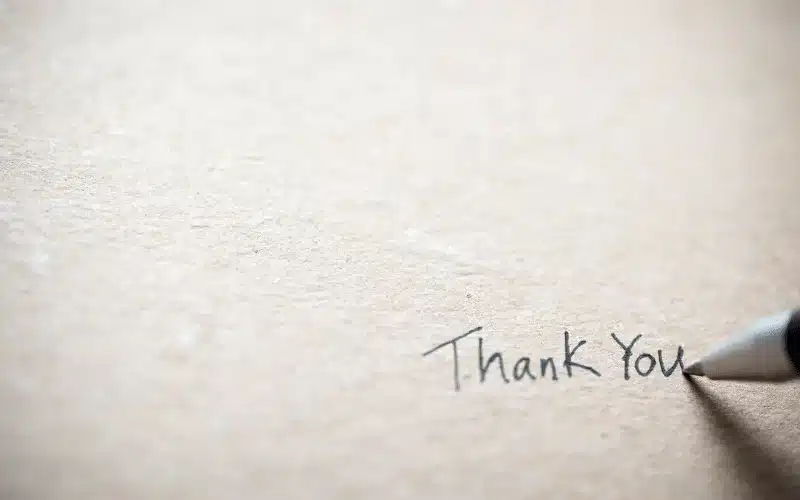 Why Does It Matter?
Having a good Thank You Page is vital because it shows gratitude towards the user and explains the following steps to the user.
Sometimes, a Thank You Page may offer further instructions on what the user can expect or should do. In other cases, a Thank You Page can include a soft call-to-action for additional purchases or an invite to follow you on social media.
It is essential to have a well-set Thank You Page because it strengthens the bond between the company and the user.
This can easily play a factor in future sales. A satisfied customer can be profitable for the business and improve your conversions for as long as the relationship between the user and the company lasts.
The Purpose of a Thank You Page
In eComm & Retail, the Thank You Page serves several essential functions – all contributing to the overall customer experience.
Let's explore these purposes in more detail so you become aware of the true significance and potential impact of a well-crafted Page:
Confirmation and reassurance
After your customer completes the order (or any other desired action), he needs confirmation that you've successfully processed the transaction.
In this scenario, the Thank You Page acts as a virtual receipt.
It displays order details, payment information, and shipping details.
Besides offering all the logistics, this confirmation is also required, as it alleviates any concerns or uncertainties the customer may have had.
Appreciation and gratitude
The Thank You Page is an opportunity to express appreciation and gratitude to the customer.
A heartfelt message will go a long way in making the customer feel valued and appreciated and help strengthen the relationship between your brand and the customer.
Enhancing the customer experience
This is the right moment to remind you that the customer experience represents more than just the purchasing process. It's a holistic journey from each little interaction between the customer and your brand.
The Thank You Page is no exception.
In a holistic customer experience, the Thank You Page bridges the transactional process and the post-purchase phase. 
By providing a seamless transition from the checkout process to the post-purchase experience, the Thank You Page adds a touch of professionalism and polish to the overall journey.
Cross-selling and upselling opportunities
Use this space strategically to promote complementary products or services.
However, you should be mindful of your tone so that you won't come across as salesy or desperate (especially with first-time customers.)
Encouraging social sharing and referrals
Include social sharing buttons or referral programs to entice customers to share their positive experiences with their communities.
This way, you will tap into the power of word-of-mouth marketing and leverage their customers' satisfaction to attract new customers.
Collecting feedback and reviews
Take advantage of your customers' involvement in this step and ask for feedback or reviews.
This feedback will provide valuable insights for improving products, services, and overall customer satisfaction.
To put it differently, include their input into your future relationship and consider their opinions when making business decisions.
Providing post-purchase instructions or resources
Depending on the nature of the purchased products, you can offer post-purchase instructions, installation guides, or access to relevant resources. 
This proactive approach helps customers extract more value out of their orders, having all the necessary information available.
In turn, you will reduce the likelihood of post-purchase confusion or dissatisfaction, thus setting the stones to pave a lucrative relationship.
Building brand loyalty and customer retention
The Thank You Page is where you start fostering a sense of loyalty towards your brand.
Combining all the info above, you can make customers feel appreciated and valued. All these positive, warm, and fuzzy feelings will eventually lead to better customer retention rates and potentially turn first-time buyers into repeat customers.
What is a Good Thank You Page?
More than a few things make up a good thank-you page for a website.
To start, the page should include a message to show gratitude towards the user.
This page should also display brief navigation of the website to make further surfing easier for the user. It should also recommend additional relevant content based on the presumed likes of that particular user.
The Thank You Page must also contain links to the business's social media pages to maintain and increase interaction.
Besides the content, you must ensure the Thank You Page aligns with your overall branding and design aesthetic. Use your brand colors, logos, and fonts to create a consistent experience for the customer.
Maintain a clean and visually appealing design that complements your brand. Use high-quality images if applicable.
Avoid inconsistent branding or a cluttered design that may confuse or distract the customer.
Structure of a Thank You Page
Evidently, the structure of a Thank You Page will change based on your specific business and the relationship you're hoping to build.
Yet, there are some common elements of successful Thank You Pages and a best-practices foundation you can build upon to achieve your goals.
Let's dive into the essential building blocks of an unforgettable Thank you Page:
Your page should start with a clear, honest, and heartfelt thank you.
Don't treat the copy as a simple task to check with a generic message. Instead, express your genuine appreciation for the customer who chose your brand.
Avoid overly salesy or promotional language and focus on your brand's voice here. Feel free to show your personality and start planting the seeds for a future relationship with the customer.
As a best practice, try using the customer's name if available and keep the tone warm, friendly, and sincere.
Avoid a generic or automated thank you message that doesn't resonate with the customer and makes him feel like another number in your KPI table.
Moving on to the more pragmatic elements, take the Thank You Page as an opportunity to provide a clear and concise summary of the customer's order.
Remember to include the key details – order number, items purchased, quantity, and pricing.
It will help customers quickly review their purchase if needed, leaving no room for doubt.
Try an use a clean and organized layout, making it easy for customers to scan the information. You can use bullet points or tables for clarity.
Avoid offering a cluttered or confusing order summary so you won't cause confusion or frustration in your customers' minds.
Another element is the confirmation reinforcement – reassure the customer that the order has been successfully processed. You could also include all information of interest, such as payment confirmation or shipping and delivery details.
Provide a delivery timeline and any additional info the customer requires (such as tracking information.)
Use clear and concise language so customers feel confident about their order status.
You should also explain to customers what they should expect next (if applicable.)
For example, indicate when they can expect to receive shipping updates or when they should reach out to customer support for any questions.
Think of this section as a step-by-step guide on what the customer can expect.
Additional offers or promotions
To save up on Social ads or Google ads, you could include additional offers or promotions for the customer.
Since it's an extremely fine line to walk, we advise keeping the upsell (or cross-sell) to a minimum and only including related products, exclusive discounts for future purchases, or incentives for referring friends.
Use customer data and info from previous customers to provide relevant recommendations that complete the customer's purchase and make them optional.
Try to soft-sell without overshadowing the primary thank-you message.
Steer clear from bombarding customers with excessive promotional content, distracting them from the primary purpose of the thank you page.
Take a moment to capitalize on the customers' interest and attention to increase social media engagement.
Encourage customers to share their purchase experience on social media or leave a review.
Disclaimer: this will only work in your favor if you provide a seamless shopping experience that the customer greatly appreciates.
Make the customer's job easier by including social sharing buttons or providing links to review platforms.
Consider offering incentives, such as a discount code, for leaving a review.
Be mindful of your tone here; being too pushy or overly incentivizing customers may come across as insincere or manipulative.
Test and reiterate different approaches until you find the golden ratio.
Contact information and support
Remember to make it incredibly easy for the customers to contact you should they have any questions, concerns, or need assistance.
Offer mail addresses, phone numbers, or links to live chat support (if available) so customers have plenty of options for reaching out in case they need your assistance.
This whole structure needs to be relevant to your specific customer base – from the visuals to the copy, everything must be designed with the customer in mind.
As a final best practice, you should regularly test and analyze the performance of your Thank You Page to uncover areas where you could intervene and provide an even better customer experience.
Thank You Page examples
If you're looking for examples to get inspiration from, you can use various free resources. Some options you can explore include:
Pinterest is a popular platform to discover and save ideas for virtually any topic.
Many designers will share their work on Pinterest, so search for "thank you page design" or related keywords, and you'll find a wide range of visually appealing examples.
Dribbble is a platform where designers showcase their work – including web design. You can also find a collection of design concepts and real-world examples here, an excellent resource for creative and visually appealing page designs.
Behance is another platform for designers and creative professionals to share their portfolios.
Behance allows you to explore detailed case studies and gain insights into the design process to use as a guide and an inspirational resource.
Canva is an online design tool offering pre-designed templates and resources for various purposes, thank you pages included.
Many free templates are available that you can customize and use as a starting point for your design. However, for more advanced customization levels, you might need to subscribe.
eCommerce Platforms and Website Builders
Popular eCommerce platforms and website builders, such as Shopify, WooCommerce, and Wix, provide resources and templates for thank you pages.
They often have showcases or marketplaces where you can explore and get inspiration from other businesses' thank you pages.
Keep in mind that while a design example is inspirational and gives you a starting point, your final Thank You Page should be 100% original and tailored to your goals, objectives, and customer base.
Wrap Up
There you have it.
While a simple page, the Thank You Page can become a creative, honest, and helpful bridge between the pre-and post-purchase customer journey.
Focus on creating a clear, user-friendly, and engaging page that effectively conveys gratitude, provides valuable information to your customers, and earns them loyalty and appreciation.
Good luck!
Frequently Asked Questions about the Thank You Page
What goes on a Thank You Page?

A Thank You Page typically includes a gratitude message, order details, confirmation information, next steps, and possibly additional offers or promotions.
What is the meaning of a Thank You Page?

The Thank You Page refers is a webpage displayed to customers after they have completed an action (such as buying something, subscribing to a newsletter, or signing up for an event.) 
Should Thank You Pages be indexed?

Typically, thank you pages should not be indexed to avoid them appearing in search engine results. However, there may be exceptions depending on the specific goals and content of the thank you page.
What is the benefit of a Thank You Page?

The benefits of a thank you page include enhancing the customer experience, expressing appreciation, promoting additional products or services, encouraging social sharing and referrals, collecting feedback, and building brand loyalty for increased customer retention and satisfaction.