The product page is your last chance to wow your customer before they make the decision to buy an individual product. If your product page doesn't showcase the actual product, hone in on product details, or have a crystal clear call to action (CTA) your conversion rates will be abysmal. If you are looking to revamp your product page, here are a few aspects of the page you can consider testing.
Product Showcase
When I say 'Showcase' I am talking about the product shot, options, and description. All of these things can and should be optimized on your product page. The product shot itself needs to be front and center. People want to see what they are about to purchase – so give this to them!
Amazon has the right idea, the product image takes up a lot of real estate, there are different variations of shots, and a hover zoom feature. The product is the star of this page.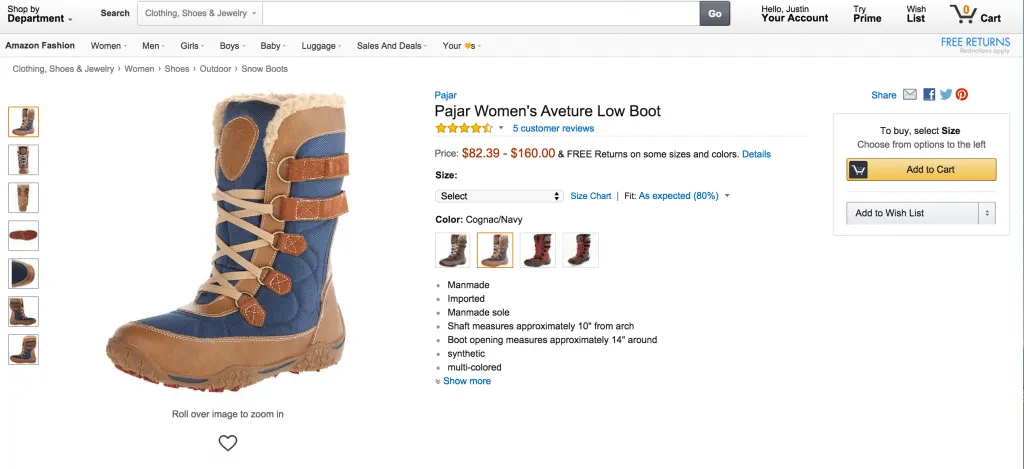 I've seen different opinions around how you should showcase your product. The picture method works well and is pretty much industry standard. However, I have seen successful tests where the image was a preview to a product video and other big wins using interactive 360 degree product photography. This really comes down to audience expectations, needs, and your budget.
Add To Bag Notifications
If you sell multiple items, you likely want visitors to add the product to their bag (or cart) and continue shopping to see your average order value grow. Sometimes customers get confused when they click buttons and don't know if a particular action has taken place. When a customer adds to bag, you should notify them that the action has been completed. What you can test is how you notify them.
Three of the best ways to do this is with an overlay, a new page, and an on page notification.
The add to cart confirmation overlay is a disruptive tactic, but can be extremely effective when done correctly.Here are two examples, the first is of a poorly executed 'Add to Cart' overlay.
Best Buy really drops the ball here, they don't make it absolutely clear that the item has been added to the cart yet. In fact it looks like they are trying to get you to add other items before you can get the product you want in the cart.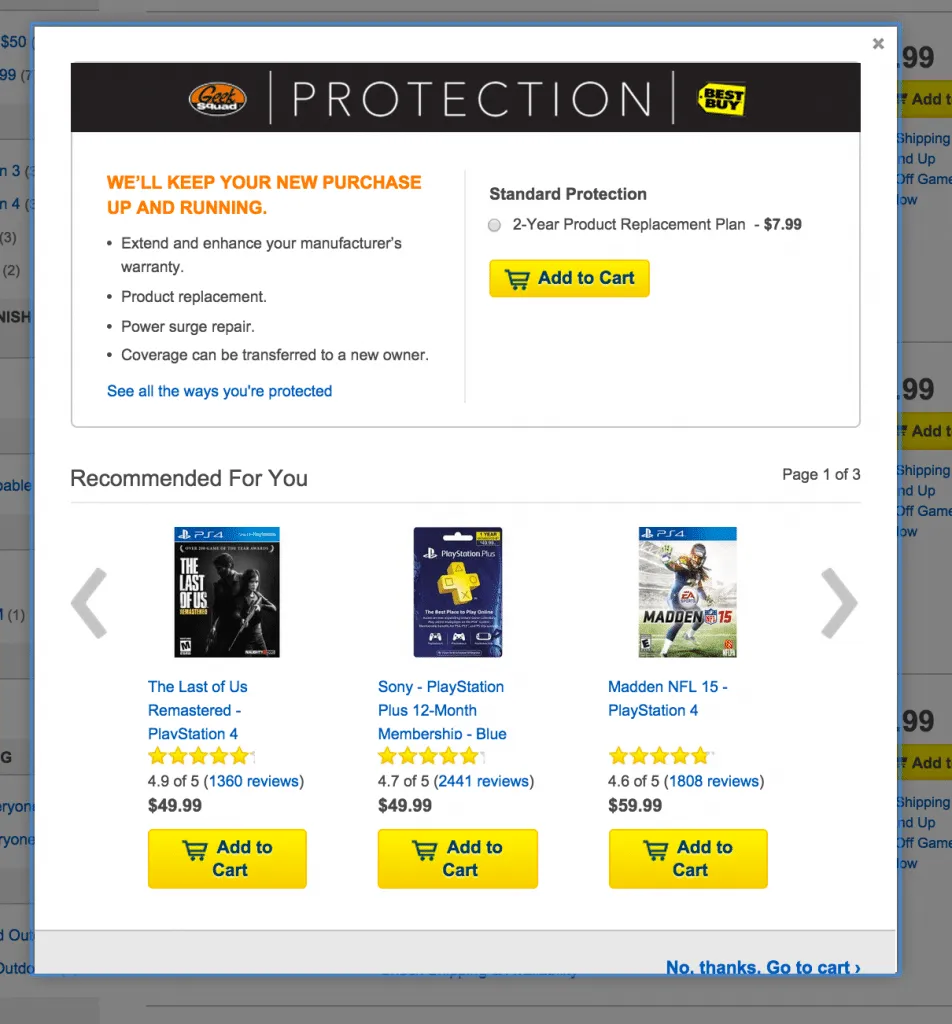 This overlay would be a lot better if they just acknowledged the completed action, then tried for some interstitial up-sells & cross-sells. This is just a confusing overlay, that lacks information and causes more confusion.
To compare apples-to-apples I tried ordering the same video game from another major retailer, Walmart. When I added the product to my cart a clean overlay that acknowledges my action loads.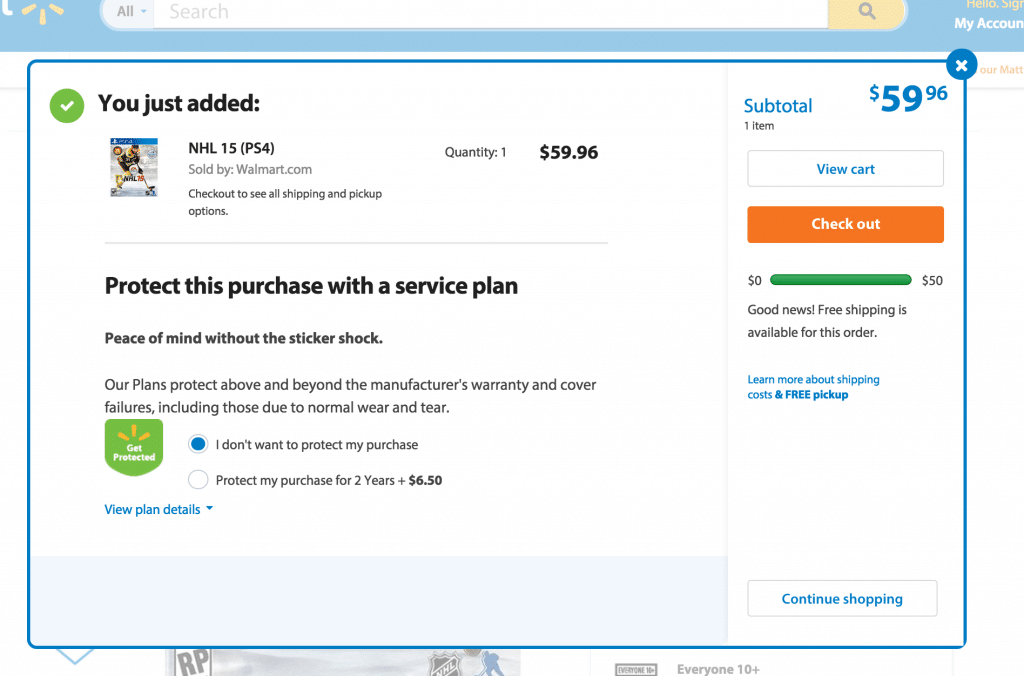 Overall this is just a much better overlay. They tell the customer what they've done, use coloration to create a visual hierarchy that highlights the main CTA, and offer a service plan without cluttering up the page.
Another tactic is to move people to a new page altogether. Amazon brings you to a brand new page that notifies the customer the product has been added then really pushes a few more offers on the customer.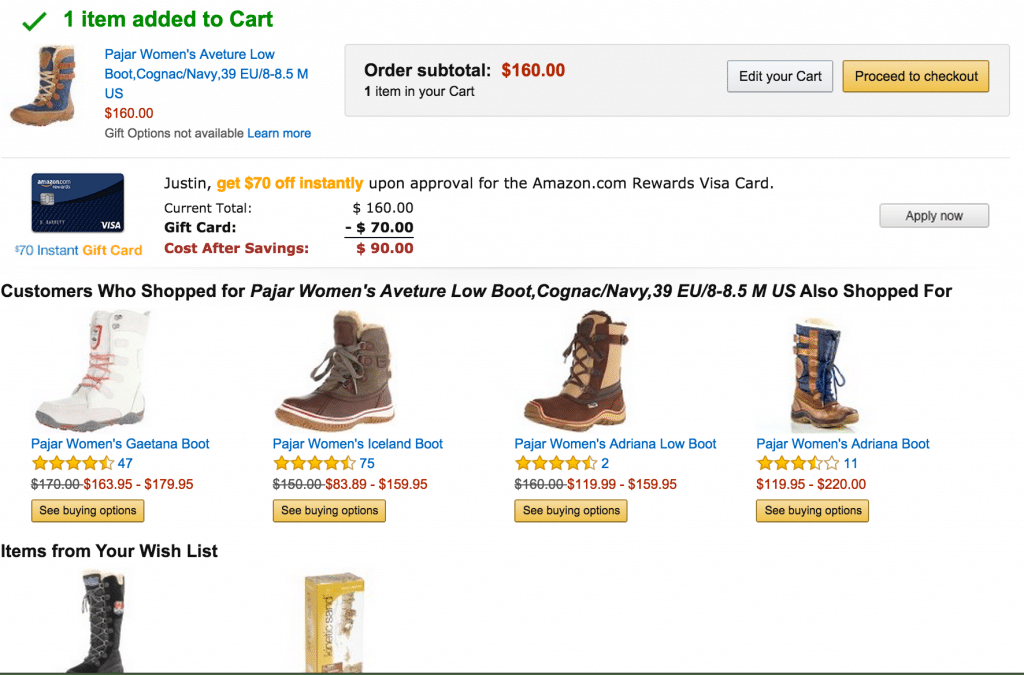 I'd love to be able to see data between on page confirmations and a brand new confirmation page. From a technical perspective it is a lot easier to have a new page load versus weighing down your product page with fancy javascript. However, we are all aware that the more clicks it takes to complete an action leads to an increased risk of abandonment.
There are other types of on page notifications you can try and I think Clarks does an amazing job with on page notifications. They have a box creep down from the 'Shopping Bag' section of the navigation to let you know your item has been successfully added.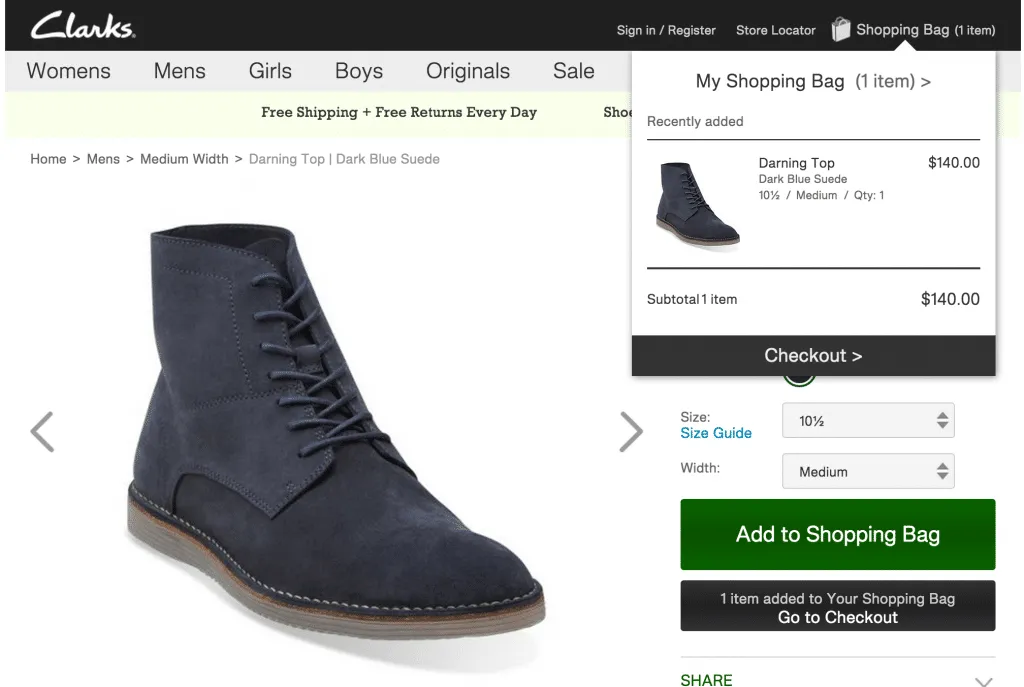 Call To Action Clarity
Obviously this isn't product page exclusive. You need to make sure that your CTA is seen and makes sense. If your 'Add to Cart' button acts as a checkout button or vice versa well…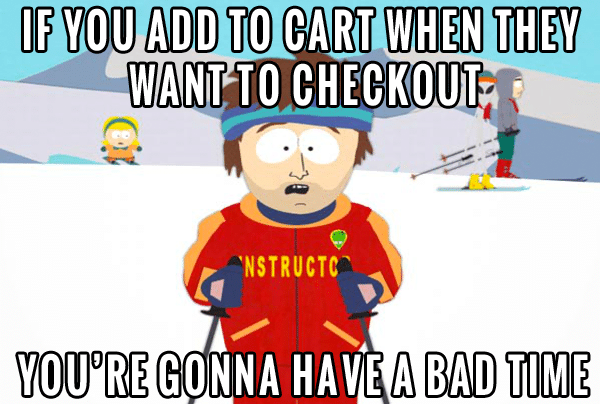 When you evaluate your CTA buttons on your product page ask yourself the following questions:
Does the CTA stand out?
Does the copy reflect the action?
Does the main CTA take visual precedence over competing CTAs?
If you say 'No' to any of these you need to tweak your CTA!
Happy Testing!