Product pages, their design and structure usually are a key element to any e-shop.  They can perfectly reflect the e-shops online strategy, the innovation it brings on its market segment and the conversion optimization tactics it deploys.  Sometimes you can really glimpse into an e-shop strategy by studying its product pages.
Sports e-shops are great to study, because they are so diverse and have very interesting niches. We will take a look at their product pages and try to find those elements that turned them into successful businesses.
The tendency towards a healthier and more active lifestyle is also reflected in the growth of the online sports apparel industry. Sports apparel e-shops are becoming more and more popular. According to a 2013 report on shopping trends, sports goods make 20% of most common types of products purchased online. From 2007 to 2012, the online sporting apparel sales registered an annual growth of 7.6% (Online Sporting Apparel Sales Market Research Report 2012).  Also, online sporting apparel sales were 4.89% of U.S. fitness industry revenue by sector in 2012.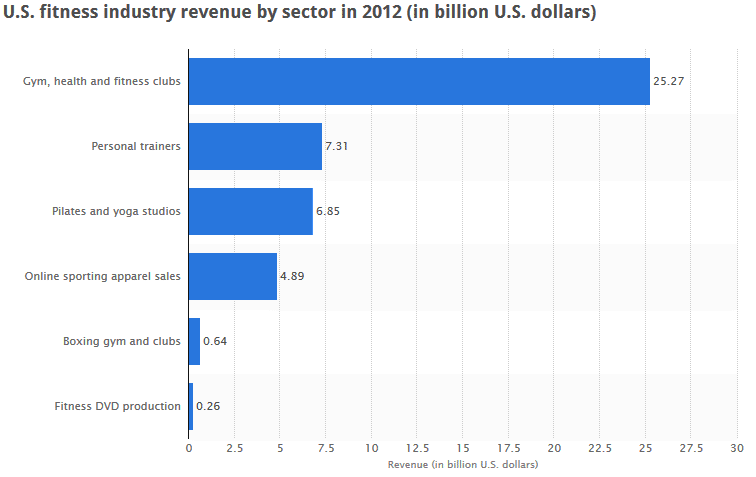 Statista
These are just a few reasons to take a closer look at how these representative online stores are structuring their product pages and the conversion tactics they are using.
Patagonia uses long descriptions of the products, with benefits focused copywriting. Other important persuasive elements characteristic to Patagonia are the The Patagonia Ironclad Guarantee, a special return policy, and the inclusion of patented technologies used for products. In this example, it's the Primaloft technology.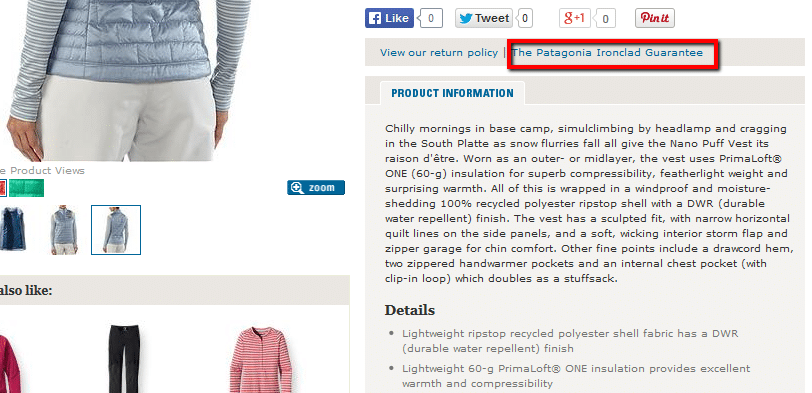 Asics America keeps a clean design that emphasizes the images of products. The product details are structured so that they leave all the space to images. All lateral menus are eliminated leaving the whole page to the product presentation.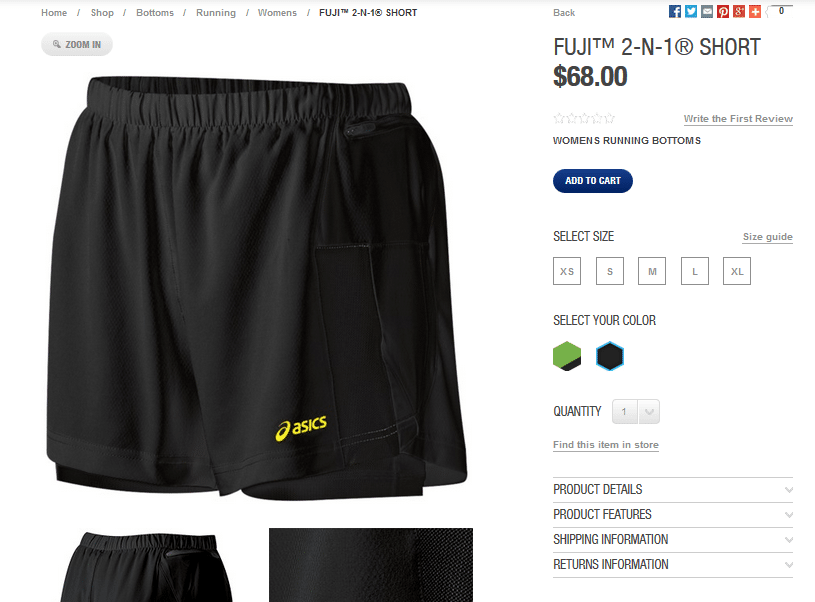 Runningwarehouse has a very compacted product page design. From recommended products to special advantages like overnight shipping, they are all included on the product page. What makes their product page more interesting is the graphical presentation of main product details. This is a great feature that enables consumers to easily choose vey specific gear.
Sports apparel is defined by functionality and versatility. Like all other top brands in the industry, New Balance understands that it's important to emphasize the technologies and the innovations incorporated in these products. Here's how they do it on their product pages:

Roadrunnersports product pages are giving a detailed description of product features. But a particular emphasis is placed on the advantages offered to costumers by the e-shop: secure purchases, free shipping and customer support.

Brooksrunning opted for a clear and simple design as well. Above the fold, the product is clearly the star of the page. Only other essential information is included in the first screen: the free return policy, the shipping info and a trust label. Otherwise, when you scroll, the page is full of information, a lot of reviews, details about the technologies.

All the aforementioned great product pages are visibly different.  But despite the appearance, they all use at least one or two conversion practices applied to the specificity of the sports apparel industry. One direction they all seem to follow is the focus on product performance and the presentation of technical features.