Most of the time, business owners are mostly oriented to track their performance through revenue, conversion rate and by foot traffic. However, these KPIs do not necessarily reflect the success of an online business, if they are not analyzed together with other complementary KPIs.
Complementary metrics such as revenue/ visitor and Average Order Value give a much better perspective and offer a glimpse of the products' performance. Let's analyze 2 important metrics that I consider to be abandoned in eCommerce.
[drumsroll]
1. Revenue / visitor = total revenue / total unique visitors
This metric is strongly related to the average order value as it could be calculated after this formula:   AOV * Conversion rate.To leverage your efforts for traffic acquisition, use the revenue per visitor metric to make an idea of how much a visitor actually costs you.
Revenue per visitor is a good reference when you bring a lot of traffic to the website and your revenue is increasing over night. Be aware: increasing the revenue can be actually a false positive without counting revenue per visitor.
To find out your revenue per visitor, you can also do the search in Google Intelligence.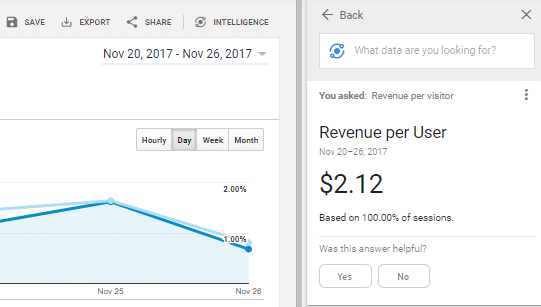 Source: Google Analytics
To make a proper analysis of these 2 metrics and see what type of customers are worth investing in, you can do segments based on:
source of traffic
new vs. returning visitors
demographics (age, sex)
One important situation when revenue per visitor deserves greater attention than the single revenue is when you are doing optimization tests on your website. If you are a testing savvy, this might sound familiar to you.
Take as an example this test:
Omniconvert experiment
In this particular case, the revenue on variation has decreased. Why is that? Because the number of users on the variation is lower causing also a lower number of conversions, eventually generating a lower overall revenue. This example tells you to ignore the revenue, which is a false metric and focused on revenue per visitor instead.
You might be put in the situation when both revenue/ visitor and average order value have an increase and that's when you have to question your raw data. Look at the graph that shows you where the spike is met and investigate further.
Source: Omniconvert
After high-value orders have been excluded, the real & trusty numbers should show on and you can make a choice.
2. Average order value = total revenue / total orders (conversions)
If you measure your online business through Google Analytics and you have correctly installed the eCommerce tracking, you should find this metric by narrowing down your view in Conversions -> Ecommerce -> Overview or easily search for it in the Google Intelligence tool.
Source: Google Analytics
If you have a high range of products, this is the kind of metric that you have to take seriously. It tells you how much your customers are willing to spend on your website and this is also your AOV baseline. If this is not the case for a high range of products, it might get you to think about adding some complementary products.
Some A/B tests that were internally conducted proved that the impact on AOV was generated by increasing the visibility of the compare function on the category page. This brought an uplift of 15% in AOV and the same test brought an uplift of over 30% in revenue/ visitor.
Now, with all of this data, you can start building the optimization plan to improve your business performance. To approach each segment of visitors in a proper manner, you can use A/B testing, MVTs or different subtle interactions that aim to cover your strategy. Be sure that the changes you are making on the website are visible and easy to use. There are some famous strategies that you can try:
cross-selling: recommend your low-value products that are associated with the items added to the cart (example: if you are selling shoes, offer additional shoe polish)
upselling: offer an improved version of the product they are looking at (example: if a user looks at a computer with a specific processor, recommend a much more powerful computer or one that has a much better warranty)
discounts: recommend relevant products which are more expensive, but have a higher discount
Bestbuy offers vouchers for pricey products
free shipping: by giving free shipping, visitors could be oriented to buy higher value products (that could also increase the conversion rate)
offer free shipping after an order value threshold: if you decide there is a lot of room to increase the AOV, set a certain threshold from which users receive free shipping (or a discount)
These metrics are suitable mostly for eCommerce stores and you can choose to analyze them Month over Month or Week over Week depending on your type of business and traffic.
May AOV and REVENUE/visitor be with you!