At present, in any business model, the customer value is a key focus for boosting revenue and increasing brand awareness. Whether you start an online marketplace or launch a brand, customer value optimization would help you understand your audience and serve its needs to the fullest extent. Companies invest huge funds for customer experience optimization to improve their loyalty and engagement to the brand, thus creating lifetime consumers.
But why is it crucial to focus on the final consumers instead of developing the brand, boosting the sales, or strengthening the marketing campaign? According to famous market expert Jay Abraham, all these points strictly depend on your customers' behavior. So, your business grows, if at least one of these options is achieved:
A large number of customers;
Huge amounts of transactions per customer;
Big average transaction value per customer.
All these points can clearly demonstrate the importance of the customer for your business development, which is also known as the customer value. So, now let's look deeper at customer value optimization (CVO) and discover the most efficient ways to improve customer loyalty for your business.
The Meaning of Customer Value
Customer value is the product/service, which is worth measuring and is competitive enough with the alternative items of the same area. It shows whether the customer feels he or she gets the benefits from choosing the purchased product. Furthermore, this value can radically change the customer's behavior and decision-making, which can directly influence the buying decision.
There are various benefits consumers can get from a product or service, which include:
the product's quality
service
brand
the problem solution
advantages of ownership
using experience
impression about the product and brand itself, etc.
All these criteria can determine whether your consumer is a one-time buyer or a loyal customer of your company or brand, which is greatly important for the company's further growth.
Taken from: https://tallyfy.com
Additionally, according to HubSpot, 60% of loyal customers will purchase more frequently from their preferred companies. That is why now companies are greatly focused on customer value optimization to increase the number of loyal customers and boost the company revenue as well.
The Customer Value Equation
The customer value is not about the price only, that's much more about the brand image in the customer's opinion. They don't buy a product itself. By investing in it, they want to purchase a solution to a certain problem. So, you have to consider also what they pay in time and effort, convenience and energy as well.
Though it seems too hard to understand at first, the customer value can be easily understood with the following formula:
Customer Value = Benefits – Cost or CV=B-C
The higher results you will get, the more likely customers will consider your product for purchase. Remember, your value proposition is the offering, which must both cover the customers' needs and fit the marketplace offerings to stay on the top among competitors.
Tips to Optimize Customer Value in Marketing
1. Create a Strong Research Team
One of the great options to start with is to create a research team, which will be focused on building a strong customer value model. The team should include the people who know the product, who possess digital marketing experience, as well as some creative and progressive salespeople. The salespeople are especially crucial for the customer value optimization (CVO) process, as they know the customers, their needs, and preferences. Additionally, they are more likely to generate some innovative and successful ideas for the sales-boosting.
Furthermore, before working with a customer, the team has to think over the product targets and the potential consumers' gains. This will give you a better understanding of how to form the offer to your audience to increase customer value.
2. Collect the Important Data
Also, it is crucial to generate a list of value elements, which affect the costs and benefits of the products or services offered to the customers. By analyzing the quantitative and qualitative customer data, your research team will have the correct numbers and relevant statistics to create and implement the important changes.
For this purpose, make a detailed research about the product's actual value, analyze its benefits and advantages compared with other brands, learn how this product may be helpful for your audience. Keep in mind that your customers won't buy your product because you like it, they make a purchase if they like or need it. And, make sure the offering can perfectly fit these criteria.
So, these important data will definitely help you to understand the consumers and study their preferences as well while optimizing your customer value.
3. Know Your Target Audience
It is almost impossible to create a universal business model that meets every customer's expectations and needs. Different people have different goals, mindsets, and individual views on how to solve various problems. Needless to say, all these points have a direct influence on the"value" definition.
That is why, you can segment your audience due to some common points they have, like their purchasing behavior or personal data, etc. Then, it becomes much easier to set up different values, which are both acceptable for the groups and efficient enough for your company, brand, or business.
Customer value can be easily optimized if you add some special offers for your consumers, for instance, to celebrate a birthday. Sephora's birthday message is one of the best examples to show the focus made on the consumers' targeting. Additionally, that method can certainly strengthen the connection between your brand and its consumers and significantly improve their interaction.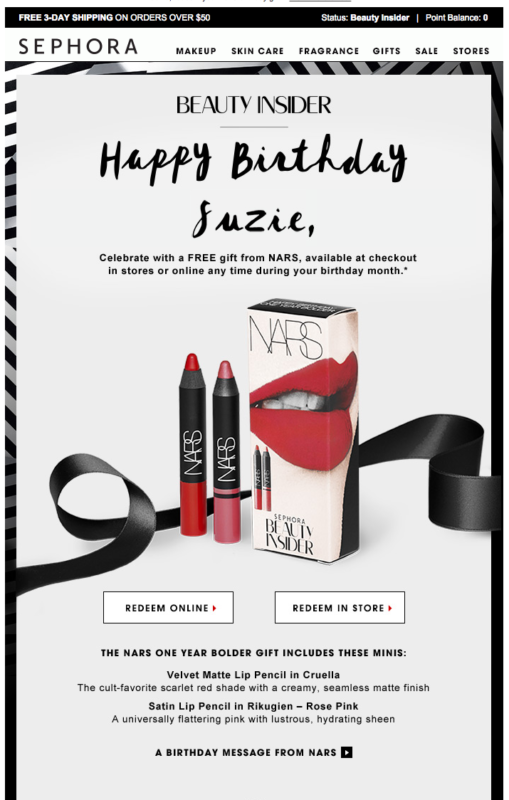 Taken from: https://www.sephora.com
4. Focus on Loyal Consumers
Most market experts constantly stress the point of getting more loyal customers for your business, and this tactic does make sense. According to Forbes, 50% of consumers claim the major reason for joining a loyalty program is to get the rewards on everyday purchases.
However, getting a loyal customer is not the final point you have to target. By providing the additional benefits using the brand loyalty programs your business can greatly optimize the customer value and increase brand recognition as well.
Furthermore, this point can be useful for encouraging new consumers to purchase your product or service. For instance, let your consumers share their experiences or positive feedback about your brand. It will greatly benefit your customer value as over 90% of consumers review the comments of others while considering the purchase decision.
For example, the REI sporting goods constantly offer different awards. The loyalty program costs $20, but it opens up different benefits for its members like discounts, event invitations, special deals on classes and trips.
Taken from: https://www.rei.com
That feature helps them not only upgrade the customer experience but also improve the customer retention.
5. Improve the Customer Experience
Another good idea to come with is to optimize the customer experience for boosting your customer value. By studying a customer journey map and analyzing the process your customer completes while making a purchase of your product or service, you would be able to fully understand your audience.
In addition, you can efficiently boost your customer experience by analyzing product feedback, return path, customer effort, etc. Also, the leading factor of improving the user experience is brilliant customer service, including the quick and efficient issue-resolving and knowledgeable customer service representative.
Once you have understood the crucial points for your customer, it's much easier to get ideas on how to optimize the customer value.
6. Stress on the Product's Value
The item price is an important factor of your successful marketing strategy, but not the only one. So, instead of competing through the price with the products or services of the same area, try to emphasize its strong sides for your consumers.
In fact, the value proposition provided can be a winning strategy. You have to demonstrate all the points that make your product or service different and superior to convince your customer about the purchase. Why? Let's study a simple example.
For instance, you want to eat outside but haven't decided the place to go. You start thinking over the restaurants and cafes you remember and compare their cuisine, the atmosphere you liked the most, etc. The final decision strongly depends on your subjective impression about it, isn't it?
That is why it is important to influence the customers' opinion by focusing on the brand's strong sides and providing the product value with real statistics. Additionally, you can demonstrate the benefits your customer can get from your product and issues which can be easily resolved with its purchase.
Summary
Customer value optimization is a complex process that implies understanding the product or service you offer to buy, understand your target audience, analyze their needs, expectations, and get the idea of what they find valuable considering the purchase.
Because of its subjective nature, it can't be completely controlled. However, with some efficient methods applied, it can greatly influence the customer value and behavior. So, by applying, changing, and combining various tactics for value optimization, you can certainly reach the new targets and create your unique and powerful strategy for the CV boosting.
And remember, by constantly upgrading your strategy with some innovative ideas it becomes much easier to reach the best results in your customer value optimization.
Like what you're reading?
Join the informed eCommerce crowd!
Stay connected to what's hot in eCommerce.
We will never bug you with irrelevant info.