Does this scenario sound familiar?
You've researched your target audience, created a good lead magnet, set up your landing page, and you waited for the opt-ins and sales roll in.
One day. Two days. Seven days.
Zilch.
Nothing is happening. Only a trickle of opt-ins here and there, probably from people who missed their way.
You even went as far as A/B testing the page, in order to determine the possible reasons why your landing page isn't converting – and possibly improve it.
Do you know what a landing page really is?
I'm raising this question just to remind you that we, marketers, often forget the basic things. When creating marketing campaigns becomes a habit, it's possible that you skip the essential aspects that could drive success.
It's possible that 75% of the things you've been told about landing pages aren't true. So, my question remains:
Do you even know what a landing page is, in relation to your goal?
For better clarity, here's one of the best landing page definitions from Brian Massey, founder of ConversionSciences.com.
Some of the striking phrases you need to consider in this definition are:
Single-minded page

Keeping the promise

Take action
Brian Massey during a presentation at International Ecommerce Day 2016 said that if the 3 elements above are fully represented on your landing page, you'll see dramatic conversions.
Sure, you will.
So, let's briefly consider each of them:
1. Single-minded page
Obviously, one of the reasons why most landing pages don't convert is because they're not focused on a particular topic.
A word of caution: If your chosen topic is too broad, you might need to narrow it down – and create a landing page around a sub-topic.
For example, if your topic is social media, creating a landing page for that may not work.
But, you can narrow it down to specific sub-topics, such as Getting Twitter Followers, Getting More Retweets, Increasing Facebook likes, etc.
Make no mistakes about it. If your page is not single-minded, then, you'll be confusing the visitor.
For the records, take a look at the real estate landing page below. The headline reads, "We help our clients make better decisions in real estate."
Better decisions?
In what sense?
You've got to understand that decision making is a broad subject. In the example from above, the page isn't single-minded. The purpose of the page isn't spelled out.
In contrast, here's another real estate landing page that has a clearly spelled out purpose.
In other words, it's a single-minded page – focused on "helping homeowners know the current value of their home."
The headline is specific.
"What is your home worth?"
Again, the form is simple. The prospects are required to fill in their email address, whereas on the first landing page, the prospect is required to fill five form fields.
That's boring and tedious.
Right now, you might want to revisit your landing page. If you ever notice that the page isn't communicating a single and clear idea, CHANGE IT.
For example, instead of giving away a free internet marketing strategy ebook on your landing page, give away a short report on building a list of 1,000 subscribers.
You'll convert more site visitors into email leads.
2.   Keeping the promise
According to Brian Massey, the primary objective of a landing page is:
"To keep the promise."
[Tweet "The primary objective of a landing page is to keep the promise."]
Remember that all the elements of a perfect landing page must be geared towards keeping the promise. None of the elements is for aesthetic (except that's the promise you've made).
A lot of people may tell you that building a high-converting landing page is as simple as A, B, and C. But, it's not.
According to MarketingExperiments, "getting landing pages built and tested is one of the top five challenges faced by B2B marketers."
Of course, there are several landing page templates and creators available today.
Regardless, brands and marketers are simply overwhelmed. A recent study by Unbounce found out that "57% of companies said they had problems finding the expertise to optimize the copy on their pages."
Here's what you should do: Start easy.
As you design your landing page, make sure that you make a specific promise – and drive it across all your marketing channels.
Does your landing page keep the promise?
Basically, your landing page offer should be relevant to your target audience. For example, if your source of traffic is Google AdWords, then your ad copy MUST match your landing page offer.
Let me give you another example.
Let's assume you're giving away a free PDF report that shows step by step how bloggers can get 1,000 email subscribers in 90 days.
Of course, you already know that "list building" is a hot topic, anytime. As you'd expect, a lot of people will jump at your free offer – and download it.
Unfortunately, when they opened the PDF report, they discovered that you didn't lay out the technique in a step by step format. The content was more or less a generic blog post on list building.
If you're not keeping the promise that you made on your landing page (as specified in the headline), you're shooting yourself in the foot.
The after effect of deceiving prospects into downloading your report or software, which doesn't keep the promise is that almost 95% of unsatisfied prospects will tell others to steer clear of your page. More so, 66% of them will switch the service providers.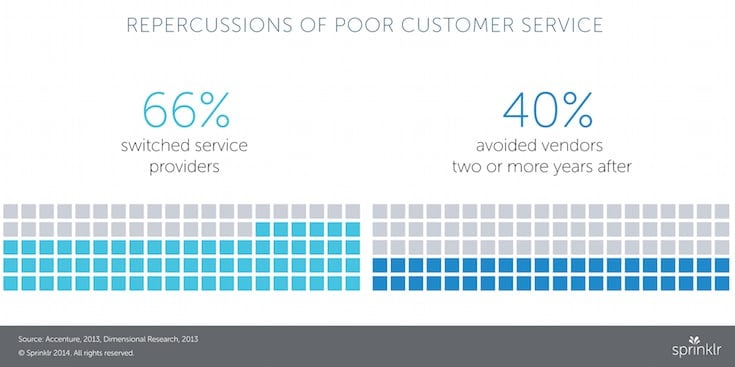 3. Taking action
Every landing page is different. Likewise, every action that you want people to take is different.
How do you want people to take action?
Remember the primary objective of a call to action: To help potential customers achieve their goals.
According to Heidi Grant Halvorson of the Harvard Business Review, "When people decide exactly when, where, and how they will fulfill their goals, they establish powerful triggers for action."
It doesn't matter the traffic source – it could be pay per click, organic traffic, social media (e.g., Facebook, LinkedIn, etc.), your utmost goal is to get people to take action.
Why is it essential to have a call to action on your landing page?
Well, it's because of the reaction that takes place on the page. From the chart below, you'll notice that marketers begin with a simple web page. But, you can't call it a landing page, unless it's got an offer and a form.
Once you have a compelling offer (e.g., ebook, short report, software, membership access) that you want people to get, you'll want to use a trigger to nudge them.
For example, on the landing page below, the customers are expected to take action and claim a $25 gift card. In the customer's mind, this gift can buy them lunch the next day. With all willingness, they'll take action.
When it comes to persuading people to take action, the words you use matter a lot. In your call-to-action buttons, avoid using generic words and phrases, such as submit, sign up, join, and so on.
Okay, I know there are instances when you're tempted to use "submit," but that's not a rule. You can be creative. And you should.
Add something that helps your business
In your landing page, asking people to click a button (maybe a button that takes them to your store) is good, because it leads the user straight to where they can get the offer.
This button benefits the customer.
But clicking a button doesn't necessarily benefit your business. It makes you feel good and improves conversion count. But it might just be one of those vanity metrics.
Sure, if the customer ends up buying your product, then, you're not losing out totally.
But what happens if the customer doesn't take the required action?
Oops!
You'll have wasted ad spend or the time that you invested – when creating engaging content.
The best thing to do is to use a simple form on your call-to-action. This way, when users fill the form with their email address and didn't complete the order or action, you can easily follow up.
Here's a better call-to-action:
Requesting an email address from your landing page visitors means that you're asking for their permission to communicate further.
The only downside is that your initial conversion rate will go down, because, now, customers have to take a few more steps (email verification, etc.), before they can get access to your offer.
But you can be certain that your email list will grow. And the more people you've on your list, the more targeted content you'll create for them.
At the end of the day, you'll convert many of these qualified leads into customers, and build a sustainable business.
Get this: If you're not building an email list, you don't really have a business.
For best results on your landing page, you need a highly reactive combination. That is, have all the elements that will eliminate customer objections, and propel them to take action.
Conclusion
There you have them. The sweet and proven ways to optimize your landing page.
Don't forget that "choice" is your enemy of a landing page. Avoid getting people to a point where they pause and think "which option should I take?"
It's your responsibility to choose for them. Remember that a landing page is not a blog post page or website page,, where people can do whatever they like.
The landing page must be single-minded (still, remember). Dare to choose for them.
Is there any challenge that you face regarding landing page building and testing? Let me know in the comments!