Just consider yourself as a shopper. Do you go to a store and just pick a dress or you hop in different stores and then buy a dress? This also applied to your consumers as well. They regularly hop between multiple channels, and the statistics say 86% of shoppers normally hop between two channels while shopping. Though they are standing in the queue at an offline store, they make a purchase online as well. This is the reason why 86% of retailers consider omnichannel marketing strategy as a vital one in order to grow their business.
Some Information
Harvard Business Review and a United States-based major retail company have contacted a survey. In this survey, they interviewed around 46,000 shoppers and got to know some amazing statistics. They are
20% of the shoppers shop only from stores.
7% of shoppers only prefer online shopping.
The rest, 73% of shoppers, use multiple channels in their whole shopping journey.
This study also reveals that if a customer uses more channels, that particular customer is more valuable for the omnichannel retailers. For example, suppose a customer uses more than 4 channels, then he or she is likely to spend 9% more in the store than the one customer who uses only one channel.
So, it is a bit clear that an omnichannel customer experience is no longer an option. The retailers should rethink their decisions and ideas about it. They need to look for new ways to engage, acquire, and retail consumers through better experience across multiple touchpoints.
What Is Omnichannel Marketing?
Omnichannel marketing is developing your brand's presence across multiple offline (such as events, retail stores, call canters) and online (Such as Whatsapp, SMS, email, social media, website) channels. And to make sure you are promoting a seamless and positive customer experience throughout the journey.
Both the words seamless and positive are really vital because 67% of the customer refers to a bad customer experience as a reason for churn. So, in case you are aiming for winning customers along with retaining those customers, an omnichannel marketing strategy is something you need to take seriously. In order to provide a positive customer experience to your customers, work on it.
Building a Perfect Omnichannel Marketing Strategy
In order to create a perfect omnichannel marketing strategy, the first thing you need to do is to understand your customer. And if needed more than her or his best friend.
Take the example of Starbucks. They have understood their customer. The thing that their customer hates the most is to stand and wait in the queue for grabbing their favourite cup. Yes, it is true that they are too tempted to grab a cup of coffee; that is why they are standing in the queue repeatedly. But Starbucks has implemented the shortcomings in order to develop an effective omnichannel strategy.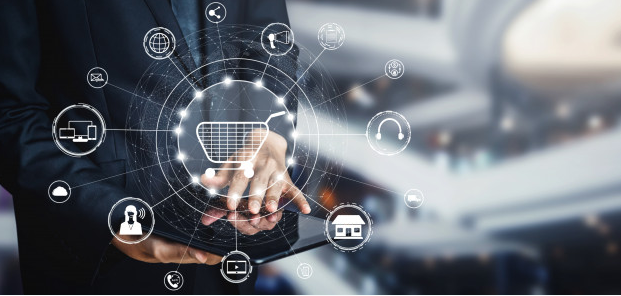 Here, understanding your customer implies to get knowledge about the platforms they are frequently using for shopping, the challenges that they are facing while making a purchase, their purchasing behaviour, the device they are using to shop, and also how they are interacting with your brand while shopping across every touchpoint.
This understanding will help you to point out the right touch points along with focusing on those points. You also can connect them in order to make your customer's experience seamless and better. This way you will also be able to pick out all the common issues that your customers encounter and can work to provide a viable solution.
Recent Omnichannel Trends for 2021
#1 Use Video Content for Social Selling
One-third of their time, consumers spend watching online videos. There are up to 85% more chances of buying a product that the customers have seen in a video. So, video can play a huge part in social selling. In the past year 2020, social selling through video has already started gaining popularity. 2021 will bring a revolutionary change to it.
Nowadays, live selling on social media platforms is a vital part of social media marketing. Experts say, selling direct-to-camera through live streaming will grow in 2021. So, influencers who are looking forward to selling products through live video on social media platforms like Facebook, Instagram, and others.
Here the Omnichannel approach will bring the twist. However, selling via different video content is around for more than years. But technology is improving the experience day by day. And now, it also allows the sellers also can monitor the success rate of their video sales across multiple channels. It will give you more accuracy while you are tracking your campaigns.
#2 Multi-Channel Attribution
Attribution has made social selling with an omnichannel approach possible. When omnichannel will rise, content marketer will also enhance their verification of how offline sales are performing for online campaigns.
Those companies, which have multiple channels, will judge the analytics. This will show them a more integrated view of their customers' whole journey, from offline to online and back from online to offline.
Start meeting customers across various channels is a vital piece of multi-channel attribution. The customers can be anywhere. In order to study your overall omnichannel performance, you can pursue cross channel analytics.
#3 A Broader Importance on Community
Virtually it is impossible to avoid the psychological impact of the covid-19 pandemic all over the world. After less than a few months of lockdown, a small increase in the feelings of disconnectedness has been noticed. People between the ages range of 18 to 34 years are especially hit by these feelings. This means that this trend has the ability to last well beyond 2021.
Customers are searching for a sense of community from their favourite brands and will continue to do so. People are still feeling disconnected as a result of the holding pattern of coronavirus. SMS marketing experts are believing that these trends will lead to much higher expectations for the entire customer experience. This is very true at the time of relating shipping notifications and returns. For any assistance degrading this, you can check the blogger outreach platform.
Here are some Possible omnichannel approaches for the sense of community in business.
Decrease the distance between consumers and business. Though the social distance is a good idea in this pandemic, the logistical distance is something totally different. An Italian shoe brand, Vilaseca adopts a sense of community by cutting the layers of resellers and distributors and also shows how their products reach their customers directly from the warehouse.
They involved customers with the internal process. Purpose Jewellery employing human trafficking survivors as artisans. In order to craft its pieces. It formed a legal corporation with omnichannel for this element. They are also pursuing an email campaign name #SparkofHope, where they directly quote from its artisans and display the community behind this brand. In employing these at-risk artisans, the customer also plays a vital role every time they make a purchase.
The viable antidote to customer disconnection and isolation is to pair omnichannel technology with broader emphasis.
#4 Video for Shopping
Shoppable video is the new omnichannel trend that we will get to see in 2021. Due to the COVID-19 pandemic physical distance, retail brands are not able to do the live interactions with their customers like they previously did. Shoppable video is the most reliable replacement for this. Nut, you need to consider a few things.
Select the proper platform for your shoppable video. Not all platforms offer the feature to add a long video with proper descriptions. But the good thing is that opportunities are still emerging.
Do not forget to remove ads. In most cases, customers avoid ads just because they are too annoying and interruptive. The security concern is another reason.
#5 Contactless Transaction
It is clear that retail store owners like to create in-store apps for their own customers. Retail and consumer goods experts say that brands will implement these applications in order to offer more and more contactless transactions. According to a survey, 67% of the customers will prefer curb side pickup even after the pandemic. This is just an indication of only one trend.
Brands and retailers will push their in-store apps. In case this app improves, the customer still always has an option to use them.
#6 Applying Customer data Offline
The direct-to-consumer brand always has customer relationships and leveraged data to their advantage. This framework can be applied to other sales channels in order to create a more effective promotion, increased conversions, better product development information, and above all stronger customer relationships.
Customer relationship experts say each customer holds a lifetime value. You can easily measure all the customers in terms of this lifetime data by mixing present days' steadily improving technology with omnichannel marketing.
This can help in different ways.
If we rewind two or more years back, according to a study conducted by Harvard Business Review found that almost 73% of customers in their buying experience, use multiple channels. These customers' data can be applied offline for greater success.
Research also shows that out of 10 customers 9 prefer or like the omnichannel experience.
Before hitting the buy now or add to cart option, customers research a product. Customers also apply this logic offline as well. They also search for a product on Google before purchasing it from an offline or physical store. A study says 59% of the customers do so. And the number is increasing day by day.
So, it is beneficial to look out for consumer behaviour and track those customers' data across various channels.
Omnichannel Marketing Strategy for Ecommerce Business
Ecommerce is one of the businesses where omnichannel marketing plays a vital role. Omnichannel Commerce is a hyper-competitive business where your customers are already spoiled enough with a number of choices. So, the task of winning and engaging customers is not that easy as it is in different sectors. For acquiring, engaging, and retaining customers, you have to cut the noises and shortcomings. A strong and better customer experience is the key here.
Here are seven strategies that you can adopt for building positive omnichannel experience.
Reconsider Your Present Marketing Strategy
Go through all your channels and find out ways to improve your present strategy. When you are thinking of building an omnichannel strategy, think of yourself as a customer.
Analyse Customer Interactions with Your Brand
Give proper attention to the behaviour of your customers, both online and offline. Do not forget to pay attention to the process of how the customer makes purchasing decisions.
Smartly Segment Your Audience
For an effective omnichannel marketing strategy, well-defined customer segmentation is required. The more segmented it will be, the more effective your strategy will be.
Customize Content for Every Channel
You will get various ways to target your customers, such as sending SMSs or emails or push notifications. Before you think about different channels, it will be better if you create a personalized message for all the channels.
Retarget Also
If a customer did not make a purchase in the first attempt, do not remove the person from your targeted customers' list. Show them the relevant banner ads on a range of different platforms, including social media marketing platforms you will be able to enhance the chances of conversion.
Use Your Automation Tool
In order to segment your customer properly, personalize the messages, schedule your brand campaigns, marketing automation tools or Social media automation tools is always a good choice. With the help of this, you also can measure effectiveness and progress. So, try to avail its benefits to the maximum.
Check, Measure and Verify
Your job is not finished after implementing or performing the strategy. It is also crucial to test and measure the outcome and work to improve them.
Be Prepared
There are some trends that are obvious, like social distancing. But apart from that, there are also several trends that will take up the market in 2021 with new aspects. So, in order to grow your business in a hard time adopting these trends with advanced technology, and you will be able to see the result by yourself.
Author Bio
Shane Brown was born and raised in New York. He is a Passionate blogger and chief blogging officer at BloggerOutreach, Viacon and SeoGrowthEngine. He is the man behind Search Engine Magazine, a well-known SEO Magazine. Shane specializes in inbound marketing and creative sales copy.
Follow us at: Facebook | Instagram | LinkedIn | Pinterest
Like what you're reading?
Join the informed eCommerce crowd!
Stay connected to what's hot in eCommerce.
We will never bug you with irrelevant info.