Over the years, eCommerce has grown to become one of the most lucrative online business ventures available today.
Worldwide retail eCommerce sales are set to reach $4.9 trillion by 2021, and if you want to carve out a slice of that pie for yourself, then now is the time to get involved in eCommerce.
A lot of marketers believe that building a seven-figure eCommerce business comes down to increasing your conversions and making more sales.
However, there's a lot more to it than that, and in order to be successful, you need to have a solid plan for retaining your customers to increase their lifetime value, not just generating conversions and focusing on customer acquisition.
This can help your business grow many times more. After all, it costs a lot more to acquire new customers than it does to keep existing ones.
With the right business idea and customer retention strategy, as well as the right sales automation tools, you will be able to provide valuable service and scale up your eCommerce business fairly quickly. 
It's also imperative to make sure that you have a well-optimized sales funnel to make sure your leads not only have the best chance of converting into a paying customer, but that you also retain customers for longer.
The trick is to pick a niche that has the following:
A clear niche type
Market and sales growth
Strong Amazon sales
Growth on Google trends
Bloggers and influencers
Identifiable niche audiences on Facebook
To make money online, you also need to ensure that you have a unique brand and a solid marketing strategy for the product you sell. With these things in place, there's nothing standing between you and the profits you desire.
In this article, we take a look at 7 eye-opening eCommerce business ideas to build a 7-figure business.
But first, a quick look at how to build a store online.
How to Build an eCommerce Store
Thanks to the tools available to us today, starting an eCommerce business has never been easier.
All you need is cheap WordPress hosting, a domain name, and an eCommerce website builder. 
You don't need any design skills or coding experience to create a professional and attractive eCommerce store. In fact, you can have a store set up in a few minutes with just a few clicks of the mouse using a website builder like Shopify or Wix. 
Alternatively, if you are a WordPress user, you can use a free plugin like WooCommerce to create a store on your site.
Whichever route you choose, here are the 7 business ideas that you can choose from.
1. Online Educational Courses
If you have any knowledge or skills that you can share, starting an eCommerce store where you sell online educational courses is a great way to build a seven-figure business. 
Online educational courses are big these days. According to recent statistics, online learning sales are set to reach $325 billion by 2025.
Due to the current global pandemic, a lot of people now have more free time on their hands, and many are using that time to pursue online education.
Whether for hobbies, entertainment, or to enhance their careers and skills, people are searching for online courses to help them increase their knowledge.
For instance, if you are particularly skilled in graphic design, you can create video, audio, or text lessons and upload them to an online learning platform.
There are a lot of online course platforms that you can use, such as:
Teachable
Udemy
Skillshare
Thinkific
LearnWorlds
These platforms make it easy to create and sell online courses. There's no need for you to incur high production costs or invest in expensive supplies. Udemy and other online education marketplaces are particularly great because they come with a ready-made audience so you can start marketing your course right away.
Alternatively, you can host your educational content directly on your own website, using simple plugins like LearnPress or LifterLMS. You can then use online marketing tools to help you get traffic to your course. 
Either way, if you're ready to share your valuable skill set, this is a very affordable eCommerce business idea that can easily be scaled to seven figures and more.
A great example of a successful site that sells online educational courses is Alison.com. Here you will find tons of free online courses in a wide range of categories. 
2. Start a Niche Fashion Website
A niche fashion website is a great way to build a seven-figure eCommerce business. If you can build an audience of people looking for specific items, such as traditional dresses, Halloween wear, etc., then you will be able to scale your online business idea pretty quickly.
Women's fashion, in particular, is quite lucrative and you will never be short of an audience in this niche.
There are many different directions you can take your niche fashion website. For example, you can focus on any of the following:
Halloween costumes
Traditional dresses
Casual apparel
Sexy evening wear
Women's lingerie
…The list goes on.
All you have to do is find high-quality items from a reliable supplier at an affordable price and then resell them for a good profit.
This isn't a new idea, but by using new strategies to help you stand out in this eCommerce niche, you will have the opportunity to create a successful business and make your mark in the fashion industry.
A great example of a successful niche fashion eCommerce site is 3Wishes, a website that sells sexy lingerie for women.
The site has built a community of avid customers around its products, which include bedroom costumes, bridal lingerie, holiday-themed sleepwear, and various other items in the lingerie niche.
3. Meal Planning and Meal Delivery Services
Another great eCommerce business idea is to start a meal planning or meal delivery service where you offer one-time orders, as well as a subscription-based model.
We live in an increasingly hectic world, and more and more professionals are willing to spend money on convenience.
Today, frozen meals, fresh food deliveries, meal planning, and meal-making kits are more popular than they've ever been.
This means that if you can find a way to fill a niche within this area, such as patio, vegan, gluten-free, banting, keto, etc., then you will be able to build a devoted audience that will propel your business to seven figures.
A great example of such a business is Ultimate Meal Plans, a meal planning service that specializes in providing weekly meal plans, 15 minute/5 ingredient recipes, and grocery shopping lists that make things easy for busy people who want to maintain their health but don't have time to do all the planning themselves.
This website also offers a private Facebook community for support, all for a very low price of $8 dollars a month. Creating a source of scalable, recurring income in this way is an effective way to build a 7-figure eCommerce business.
4. Health and Wellness Products
Yet another eCommerce business idea that will make you money in this and the coming years is selling health and wellness products.
People are starting to focus more attention on their health and well-being. In addition to diet and exercise, they want to find ways of boosting health by getting enough quality sleep.
This increase of attention in the sleep segment translates to big opportunities for those in the eCommerce industry.
If you can provide the products to meet the increase in consumer demand for customized sleep solutions, Then you will be able to compete against the big players who have long dominated the mattress industry
This sleep health website is an example of a business that is successfully taking advantage of the growing sleep-health economy. It specializes in providing a full-circle approach to sleep health and wellness that incorporates all aspects of physical, mental, and environmental well-being.
By providing all the information their audience needs to achieve better quality sleep every night, this website is able to drive sales to a wide variety of products, including mattresses, pillows, comforters, blankets, and other bedding products.
The great thing about this niche is that it has tons of other sleep products that you can offer, such as:
Sleeping aids, like lavender oils, Epsom salts soaking solutions, etc.
Sleep supplements, such as melatonin
Sleep meditation and bedtime story apps, like Slumber or Calm
Earplugs, noise canceling/white noise machines
Anti-snoring products like Nose Vent
Night masks, sleep trackers, and so much more.
5. Pets
If there's one thing people will never stop spending money on, it's their beloved pets, which is why entering the $100 billion pet industry is a fantastic way to build a seven-figure business.
The options are endless, in this niche. For instance, you could create an eCommerce website where you sell:
Treats for pets
Pet clothing
Pet toys
Pet supplies
Dental care for pets
Novelty pet beds
Personalized collars
Cat trees
Cat litter mats
Car seat protectors
Any one of these ideas has the potential to help you grow your business at a steady rate as the market continues to grow.
In the pet industry, there are also tons of opportunities to maximize customer lifetime value by offering subscription boxes for pet supplies, treats, etc. 
Ready to optimize your customer lifetime value strategy?
Increase the number of loyal customers, improve Customer Lifetime Value, and maximize ROI with automated RFM segmentation and actionable insights for your eCommerce business.
A great example of a successful pet supplies eCommerce website is Five Barking Dogs.com, a website that sells dog products such as collars, leashes, toys, beds, and various other items. 
6. Niche Products
One of the best ways to create a scalable eCommerce business is to create a small, niche eCommerce brand that can stand apart from – and rival – the bigger, more expensive brands by focusing on product quality.
There are tons of niche products you can choose from, including beauty and makeup products, lifestyle apparel, and so on. If you can find a product idea that you can sell around a specific community, then you have a firm foundation for a seven-figure business.
A great example of this is MannequinMall, a website that sells a wide range of mannequins and dress forms. By choosing a specific niche, it's a lot easier for them to build a targeted audience and scale their business quickly. 
You can also combine physical products and affiliate marketing to create a successful eCommerce business. 
Just make sure that you choose a niche where you have a deep understanding of the products, as well as the experiences, problems, and needs of your target audience.
An example of a popular seven-figure niche site that uses affiliate marketing as its main monetization method is Dr. Axe.
The website offers a wide variety of health products focused on everything from brain health, sleep, immune support, gut health, and joints to beauty, fitness, energy, and overall wellness products.
One of the main reasons for the website's success is its branding initiatives that help them win customers. 
7. Sell Unique or Handmade Goods
A good way to make your website stand out is to sell unique handmade goods that no one else is selling.
If you are skilled in making arts and crafts, natural beauty products, sculptures, wooden carvings, jewelry, scarves, hats, blankets, etc., then you stand to make a lot of money online.
But, in order to scale up the business, you can also source unique goods at a cheap price, and then resell them in your online store.
The site depicted below, which sells unique Baja hoodies from Mexico is a great example of an eCommerce website that makes use of this concept to build a 7-figure business. 
Step-By-Step Process for Building a Successful Business
Although it's not easy, the step-by-step process for building a successful eCommerce business is simple:
Step 1. Pick the Right Business Idea: The first step is to learn how to determine which business is right for you depending on your knowledge, skills, experience, or passion.
Step 2. Create a Website: Your second step is to get website hosting and create an eCommerce website using the proper tools available online.
Step 3. Craft High-Quality Content: Provide relevant, engaging content for your audience. Use a tool like Copyleaks to check that your content is 100% original and plagiarism-free. 
You can also use platforms like Design Your Way to help you get your work done faster.
Step 3: Generate Traffic: Now it's time to send traffic to your website using a variety of traffic generation techniques like SEO, social media marketing, hosting webinars, etc.
Step 4: Build an Email List: One of the best ways to generate recurring users, as well as paying customers online is to create a customer list using a tool like Sender.
Step 5: Optimize Revenue: Measure, tweak, and test your processes so you can discover the key strategies to maximize your revenue.
Step 6: Scale-up: Once you have everything working smoothly, it's time to head for the seven-figure income by implementing tactics to grow your business faster.
Like what you're reading?
Join the informed eCommerce crowd!
Subscribe to our newsletter to keep up to date with the latest info in eCommerce.
We will never bug you with irrelevant info.
Conclusion
The ideas outlined in this article are just a few of the many different types of eCommerce businesses you can start.
Use this article as your resource to help you avoid being overwhelmed by the sheer number of business ideas that are available to you. Choose any option from our list of the 7 eye-opening eCommerce business ideas, build an online store, and get started growing a seven-figure business right now.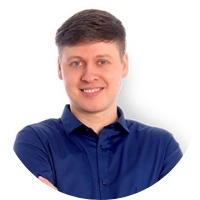 Author Bio
Burkhard Berger is the founder of awesomex™. You can follow him on his journey from 0 to 100,000 monthly visitors on www.awesomex.com. His articles include some of the best growth hacking strategies and digital scaling tactics that he has learned from his own successes and failures.