The fashion e-commerce industry is one of the most fast growing online market due to its key benefits that customers are simply loving: innovative and always surprising product descriptions, inspiring visualization methods, high level of human presence as seen in reviews, testimonials and social sharing. Online shopping has become very similar to shopping in the brick and mortar stores due to  these elements. Though, these are only some basic things that any fashion online shop should provide for customers in order to improve conversion rate.
The online fashion industry has been the second sector in retail e-commerce sales in US for last 4 years and it is predicted to almost triple the sales number by 2016 ($73 bilion) compared to 2010 ($28 bilion). Computer and consumers electronics takes first place with a sales growth from $35,7 bilion (2010) to an estimated $80,2 bilion dollars in 2016. So, if you want to be successful in this very competitive industry, it is vital to adapt your e-shop to the customers need and offer them something new that will place you as a top of mind brand in fashion e-commerce.
Here's a list of ideas you can test on your e-commerce fashion store in order to start the process of conversion rate optimization:
I) Innovative product presentations
It's a known fact that in an online store people cannot feel the texture of clothes. The key solution to eliminate this fear is to bring the real life experience of shopping in your e-commerce store so that people can analyze the fabrics and even feel the garments.
Here's list of what you can do to have a mind-blowing product presentation:
1. Innovative visualization methods:
360 degree product images;
Provide a 360 degree system so that people can see the product from different perspectives. You can either use several pictures from front to back (such as in the example below from Next) or you can provide a rotating system (such as Schuh does).
Having the possibility to observe the clothing item on a catwalk gives customers another chance to analyse how the product looks on a real person. In this way, it's easier for customers to image how the dress would fit them.
A zoom-in system allows customers to almost feel the clothing texture, fine cuts and fabrics. But, a zoom-in system is useless without you have high quality pictures and clear product images.
Here's a quite nice example from Boden: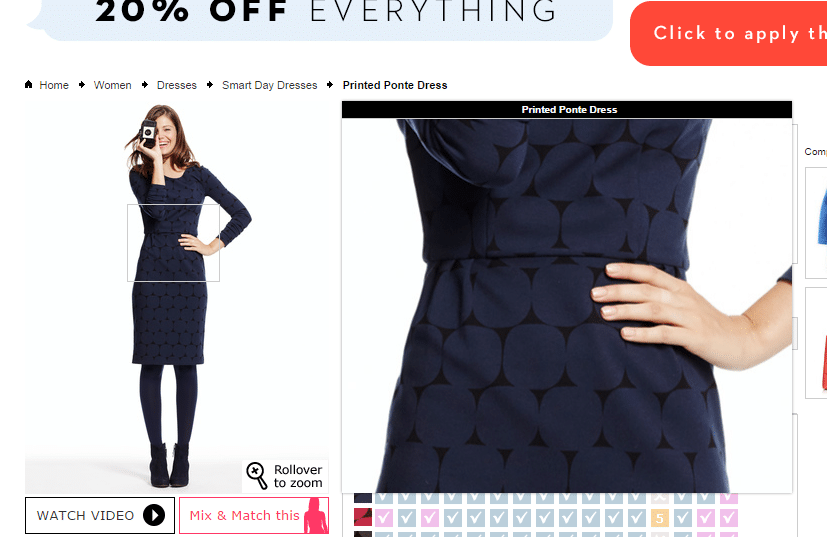 2. Fabrics & Care section on the product page:
Let your customers know how to treat the product so that they can enjoy it for a long time and provide information on how to clean it, if it's suitable for ironing, if it's water proof, etc.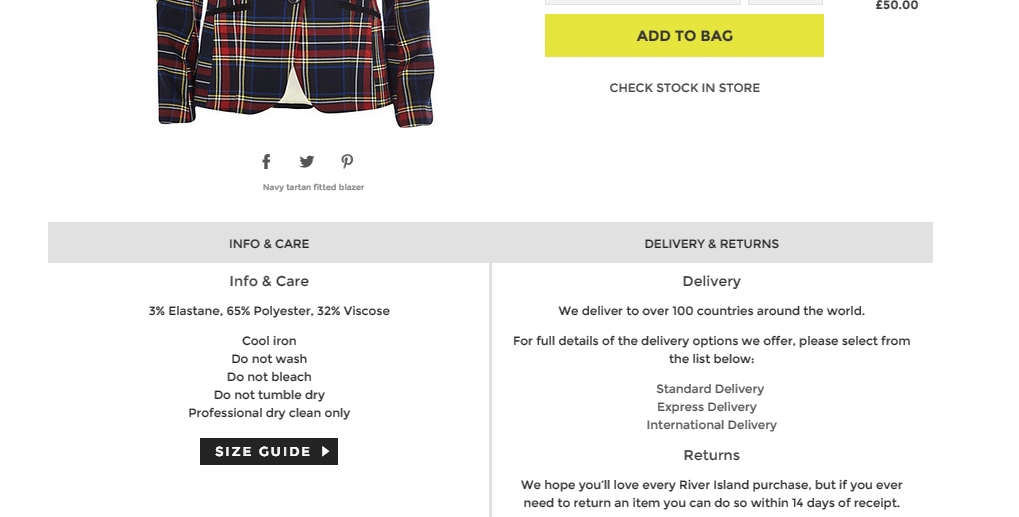 3. Fit & Features Information:
It's important to communicate the height of the posing model and the product size in the picture. Why? So that the visitors looking at the product to estimate how it would fit them and compare it with their own sizes. Write down as many details as you can. For example, Aquascutum.co.uk provides useful information for this coat: model heights, sleeve length, garment length, pockets, collar, front panel, etc.: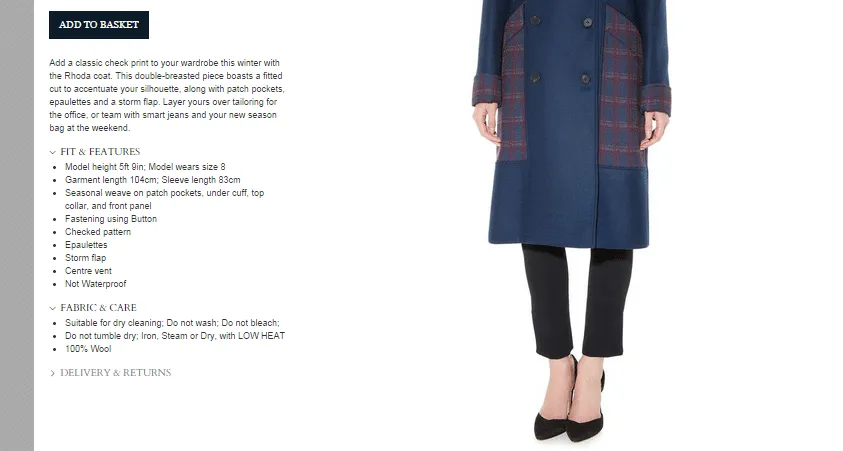 4. Original product stories:
It's easy to create a story around your product, especially in the fashion industry, because you can tell visitors the designer's or brand's ideas behind. Read more about the power of storytelling and content marketing in e-commerce.
As I have said in a previous article, Howies is a great example when it comes to storytelling in e-commerce and original product description. For instance, when looking up for a base layer clothing item, you discover the beautiful story of what is a Merino Base Layer and how it helps your body regulate it's temperature:
 II) Easily available size guide
Display as much information as you can regarding the available sizes of products. Also, describe sizes converted in different regions of the world (UK, US, Europe) and write down the dimension in centimeters and inches for every size. In this way, all visitors will know what size to look for on your e-commerce website.
For example, on Cathkidson.com, you can find all the necessary details about sizes for clothing (women, men, babies and kids) and shoes:
People like to relate to other people and always keep up with the fashion trends. When the lack of inspiration strikes, people search for features, actual fashion trends and new looks to wear. Include a "Today's look" or "This week's top 10 picks" section, where fashion icons share their opinion on how to create a trendy clothing combination to make you look fabulous.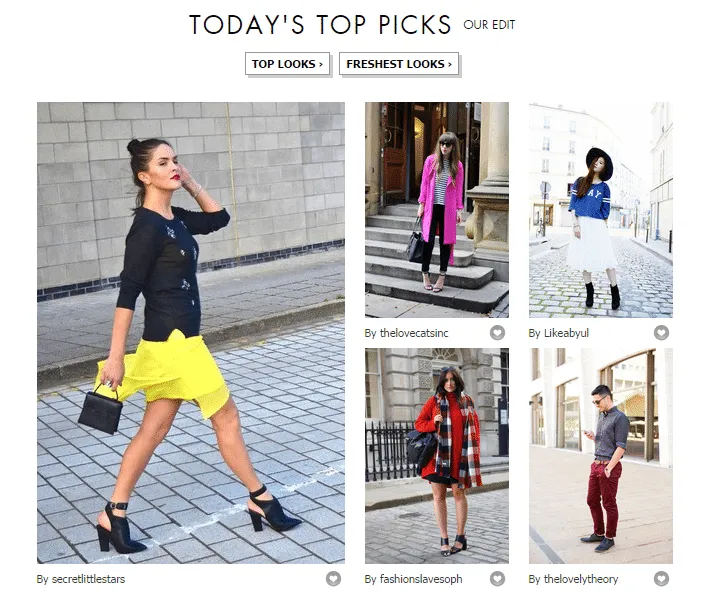 Once again, Asos is a great example. They have launched ASOS fashion finder, a platform where visitors can analyse trends, identify the perfect look and outfit and participate in design competitions. You can learn how to "layer up in a classic leather jacket", "stay stylish come casual brunch", "step out in neutral camel shades" or "discover new ways to wear your denim". Using the headline "create, share and shop", ASOS includes the social sharing component in a subtle way. Later on in this article I'll present the main aspects of social sharing in e-commerce.
Another big pro for fashion e-commerce is to have inspiring looks for customers, such as "This fall/winter 2015 trends" or "What to buy now: Paris fashion week inspiration". Become an inspirational and creative resource for customers:
IV) Online stylists
Nowadays, personalization is essential if you want to have a successful company in fashion e-commerce or any other sector. Everybody thinks alike and it is easier to persuade visitors by addressing them in a personal tone of voice. Help visitors to make the best buying decision by purchasing the outfit that goes best for them. An online designer can show customers tips and tricks on how to choose their clothes according to the personality or how to combine old clothing items and get a fresh new look.
 V) Social sharing buttons
Including social sharing buttons on the product page has become a common feature for all fashion e-commerce sites. Using these buttons, you increase chances to spread the word about products. Word of mouth is probably the best advertising channel because it is free and it generates organic traffic. The best fashion e-commerce sites are increasingly using social sharing buttons due to its great power of engagement.
The biggest players in the fashion e-commerce industry (as you will see in the examples below) choose to display Facebook, Twitter, Pinterest and Google + buttons. Select those channels that your audience most uses, that are relevant for customers and that match their online behavior. Conduct a research to find out these information.
When it comes to choosing where to place the social buttons, there are several key positions you should consider:
below the product images, such as Forever21 does:
below the Call to action button, coloured, such as Jabong does:
below the Call to action button, b&w, such as Net-a-Porter does:
H&M places a "Share" button below the product image. When clicking it, a pop-up displays the sharing options: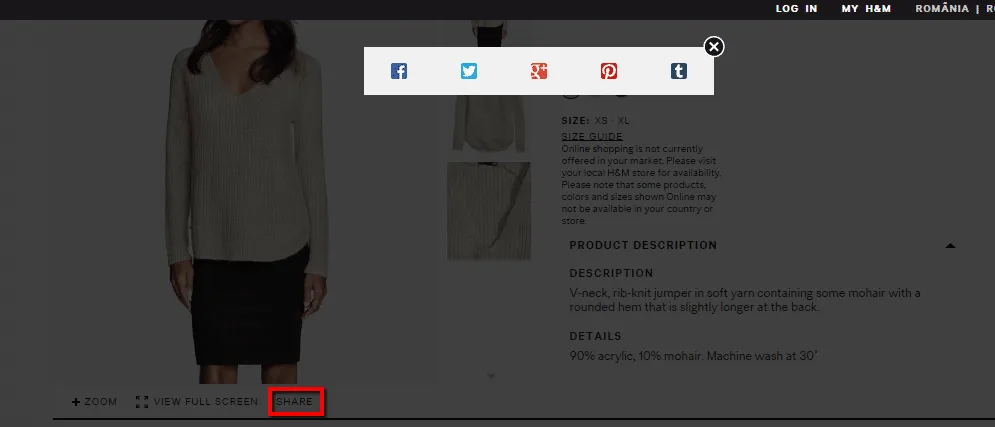 VI) Social proof
Social proof is one of Cialdini's principles of persuasion, defined as the tendency of people to behave and act like others. Through social proof examples, you show customers that you are a reliable player in the business and, also, people will trust the brand even more because the product they want to purchase has been socially approved by others.
One the product page, make sure you include social proofs such as:
star rating review system
testimonials (quite useful in the fashion e-commerce industry, because it shows real people telling real stories about their own experience)
testimonials associated with human pictures (it makes visitors feel more comfortable)
 VII) Personalized offers
Once you have reached a considerable traffic on the fashion e-commerce site, it is time to divide it, selecting your main target to focus on. Identify the main traffic segments and see which one is the most effective and high converting. All these steps being done, address every segment with personalized content. Syncronize the messages with the customer's behavior and needs.
A great strategy to convert shoppers into buyers is to create personalized offers, based on their purchasing history or the searched products. It's not mandatory to give discounts or vouchers. For example, any fashion e-commerce company can display an on-exit pop-up offering a "Today's fashion icons", "How to dress for less" or "How to create the perfect look for you" guide.
If you want to find out more about how web personalization works and what are its main benefits, read this article on "How to use web personalization to stand out".
Another trick you can test on the fashion apparel e-commerce is to use a recommendation system. You can simply suggest similar product to can simply suggest similar products to the one the customer is looking at or you can create a "complete the look" section, such as Next does: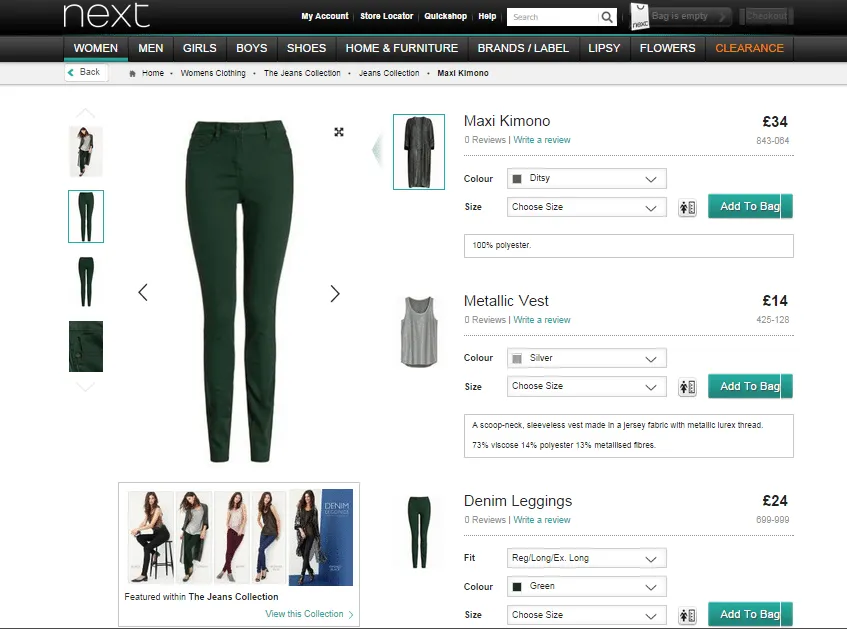 Starting a fashion e-commerce business seems like a good idea if you follow some basic steps and plan the conversion rate optimization goals according to an organized strategy.